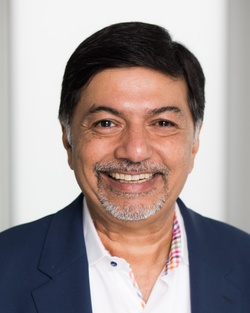 ---
Please contact a GDA agent for information.
---
Topics
Click on the topic name to see other speakers tagged with this topic.
---
Hear Rajendra's
Podcast Now
Raj Sisodia
Best-Selling Author; Founding Leader of the Conscious Capitalism Movement
Select Testimonials
Raj, It has been a blessing to hear you, and feel your soul. You have touched me, and I am so grateful. Raj has touched a deep emotional cord in acknowledging and honoring women's role and contributions - many thanks for bringing forth this discussion Your peaceful, calm presence is a teaching in and of itself Raj! I feel so blessed to have been present for this. Raj you are the magic ointment the world is desperately looking for. Thank you Raj for honoring the feminine and bringing healing through your own heart. We cannot take people farther than we are willing to go ourselves. I appreciate you for your depth and what you illuminated today! Raj thank you so much for all of that, beautiful and inspiring in so many ways. Thank you Raj. The depth of your wisdom, humility and leadership is beautiful. Thank you, Raj for being in this world and bringing your wisdom and experience. Thank you Raj for your vulnerability and leadership through your heart. Raj, so much gratitude and admiration for you, your journey and the work to help heal the world. Raj, it has been a blessing to hear you, and feel your soul. You have touched me, and I am so grateful. Such a powerful and gentle speaker, wise beyond his years. Raj you are a radiant being and you are radiating so much love and wisdom! Thank you so much! Raj words cannot express how grateful I am for sharing your wisdom with us and the world! Firms of Endearment changed my life, provided a new compass - thank you for your many gifts Raj! This has been off-the-charts FABULOUS. Thank you @Raj. We are all IN the Age of Transformation, and, with Guides like Raj, we are helping to birth that new age for everyone in the world. This has been a deeply moving session. Thank you @Raj for modeling vulnerability as strength and true leadership. Raj is such a beautiful embodiment of integrated masculine and feminine. Thank you for showing how vulnerability increases intimacy and connection. The new paradigm requires us to live from love. Raj is new to my world so I don't have a prior experience to compare to. What I experienced the gift of love, vulnerability, and that always learning and transforming is happening. Much Gratitude & Love for who you are and the light you are to the world.
---
- Thank you for a beautiful closing to this wonderful event. - Inspiration, hope, purpose, love...Amazing! - Fantastic - deeply transformative. I am rewriting my why statement. - Raj has such a great presence! Love hearing him speak! - Brilliant, wise, & inspiring! - Love his new model of the four energies. HIs passion for his message and the case he makes for the change we need. - Can't wait to read your new book. - Such a great speaker, so inspiring. So simple and makes so much sense. Why all companies don't buy-in to these principles, I don't understand but look forward to moving my organization closer to these values. Thank you! Thank you! Thank you! - Very inspiring and crucial message. - Raj is shining his light in such a profound way. Thank you for being an inspiration with all that you do as an author and founder of Conscious Capitalism. - Wonderful examples. Very thought provoking info & perspective to marry with presentation to senior leadership. - Excellent! - I loved how he incorporated gentle humor and many historical examples. It got a little "heavy" in the middle, but he pulled us up at the end. - Amazing - very healing, grounded and peaceful. - Bless you! Bring more healing! We need you! All our love! - Captivating! Love your work! - Fantastic, heart-driven presenter. - Solutions for our troubled world. - Raj is amazing! Gives hope to us all. - Love after love. ONe person and one organization at a time - we can heal people, business, government and our earth. - Very thought provoking. Thank you for sharing the impactful stories. - Wow! Totally connected to this message. Thank you! - Impactful, important message. Wow! - This speaker, like most at this conference, provided context that is applicable to any human who works with other humans. - Great bookend to Bob Chapman - echoing the message that people are the heart of business. - Thank you for the reminder of kindness.
---
Thank you for your vulnerability, your openness, your love. It has been a blessing to listen to you today. This truly resonates with so many aspects of and very insights, thank you!!! Raj - Thank you so much! Looking forward to reading your book that I just ordered! Onward and Upward! #Inspired Humbly, peacefully, speechless. Thank you Raj. Thank you again Raj, this is revealing, inspiring and a good setup for reflection
---
Sensationally inspiring presentation!! Really loved this! Really resonates. This has been absolutely incredible and eye opening. Thank you Raj for conveying your incredible journey! So many gems to take away from your time with us. You're so in touch with your Emotional Intelligence and that serves as a model of EQ for our team. Such a great and inspiring session! Very inspiring and powerful session. Thanks Raj and team!
---