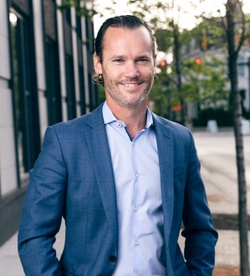 ---
Please contact a GDA agent for information.
---
Topics
Click on the topic name to see other speakers tagged with this topic.
---
Hear Peter's
Podcast Now
Peter Sheahan
Featured
C-Suite Advisor and Entrepreneur
Select Testimonials
"Peter Sheahan did an outstanding job facilitating our two day conference and board meeting. He had the CEOs of some of the world's biggest companies sharing in ways we have not seen before, and the insights his facilitation generated were invaluable to the attendees and the association alike. Having someone with his breadth of content created very valuable links in our conference program, and significantly enhanced the learning experience as a result. And that is to say nothing of the tremendous energy he brings to both his presentations and facilitation. Engaging Peter in this way was an extremely worthwhile investment for our association."
---
"You've been an absolute wonderful partner, adjusting to our transitions and pivots along the way, and leading by example continuous learning. Brilliant. Agile. Trusted. Confidant. Integrity. Inspiring. These are some of the attributes I use when describing your contribution to AT&T University and LwD, and beyond. Thank you for what you have brought us... It is corporate life changing for AT&T!"
---
"Peter has worked with some of our most senior leaders, almost all of our North American distribution partners and some of our most edgy businesses such as Webex, too. Peter understands not only the forces of change in the modern business landscape, but the mindset the leader needs to adapt to future proof themselves against that change. His sessions are content rich, extremely thought provoking and inspiring all at the same time. Peter can be relied upon to deliver genuine insight that moves his audience to action. These are exciting, and of course challenging times. Peter is just the right kind of thinker to help organizations profit from the opportunities which inevitably arise in such a turbulent economic environment."
---
Peter Sheahan could light a small town with energy, enthusiasm and insight. He combines deep practical knowledge with unending passion for both his subject matter and his audience. In my 10+ years of speaking with executive-level audiences, I find Peter to be unsurpassed in his ability to engage senior executives. Peter can draw out of your people answers to questions they did not know they had. That, and even more powerfully, he will have them question the very answers they come up with in a way that reveals an even deeper level of insight and understanding. Whether he is presenting or facilitating, Peter is clearly world class educator.
---
"You delivered everything we asked for and more. You took the time to listen and learn our business, then linked your ideas with our business needs. Lockton will clearly benefit from your preparation and on-stage performance. Too often, speakers bring their material and deliver it, lightly connecting the unique needs of their audience with the bold strokes of their standard stump speech. You connected our audience to your message in a powerful way."
---
"Many thanks again for your energetic, provocative and very relevant speech this morning. I've heard nothing but extremely positive feedback from the GAs and company executives. As I told you when we spoke on the phone, this audience is not easily impressed, so their reactions are especially gratifying. I don't remember ever having a speaker who so deftly tied his message directly to our business. Hopefully you sparked the change in thinking that we need to take us to where we want to go."
---
Peter is one of the most unique people I have had the pleasure to meet and work alongside. Peter has the ability to filter through a range of information and create inspiring direction. I say that because his words continue to echo through our walls long after his presentation ends. Not just with the executive team but with our top managers as well. I personally appreciated the interest Peter demonstrates in our category as well as our business and brand. He takes the time to connect with these elements and it lights up the crowd because he reaches them on a personal level. I also appreciate the insights and connections that Peter can make from his travels and experience. He has an uncanny way of connecting the dots between conversations, leaders and organizations. His accent does hurt him either. It provides a playfulness that allows him to let down his guard with the audience and it comes off as honest and sincere.
---
For the last few years, News Corporation America has been engaging Peter Sheahan to transform the way its leaders think about their business, and the talent within it. From the creative's in the editing rooms of LA, to the Chairman himself in New York, Peter has had a profound impact on this company. There is no shortage of people who can entertain an audience. There is also no shortage of academics, conducting insightful research. It is very rare, however, to find someone who is engaging on the platform and whose work is clearly based on ground-breaking research and genuine insight into what makes a business and its leaders successful in today's uncertain marketplace. Peter Sheahan is one of those people. Arguably the world leading expert in generational change, I have no hesitation recommending Peter to any organization looking to drive innovation deeper in their company, and wanting to inspire their leaders to think differently and take the necessary risk to future-proof the business.
---
Peter Sheahan is a sharp business mind. He understands the business model itself, and the role talent plays in driving its success. A long-way from the group hug style approach to talent that plagues many advisers in this space, Peter will cut the heart of what makes you a great place to work, and outline the best strategies for telling the world. He has a clear understanding of what drives human behaviour, and always offers a thoroughly researched perspective on your main competitors, and where you are positioned in the mind of the people you want to attract and retain. Whether it is strategic guidance, or creative stimulation Peter Sheahan is a powerful partner on your journey to building a powerful employer brand.
---