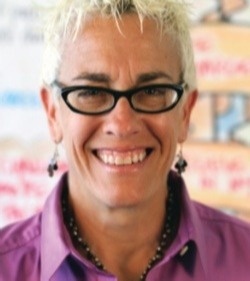 ---
Please contact a GDA agent for information.
---
Topics
Click on the topic name to see other speakers tagged with this topic.
Patti Dobrowolski
Visual Thinker + Change Activator
Visual goal setter Patti Dobrowolski captivates and inspires audiences using the business leadership tool of the future: Drawing Solutions.TEDx speaker, critically acclaimed comic performer, writer and business consultant, Patti's innovative visualkeynotes, break out and gamestorming sessions inspire employee and leadership creativity.
Patti Dobrowolski is passionate about showing you how easy it is to set and achieve your goals more quickly using a simple picture. In her inspiring and catalytic style, she challenges her audiences to identify, then step into the changes they truly desire, while giving them the tools and confidence to ensure those changes stick. As a keynote speaker, Patti speaks to audiences from all sectors of business and non-profits including such clients as Nike, Microsoft, Starbucks, The Bill & Melinda Gates Foundation, USDA, New Zealand Federation of Principals.
Patti has won the prestigious "Woman of Achievement" award from The Association for Women in Communications, was a Seattle awardee in the Make Mine A Million-Dollar Business and has been a featured speaker at multiple TEDx events.
Need to clearly identify and communicate what's changing in your business while capturing the genius of your leaders at all levels? Patti's Snapshot of the Big Picture process has helped to transform NGOs, Fortune 500 companies, B2Bs and startups around the globe. Leaders at all levels are able to translate and communicate their vision of the future using a simple, effective visual.
Goal setting isn't rocket science! Patti Dobrowolski will help launch you and your company into a whole new world.
---