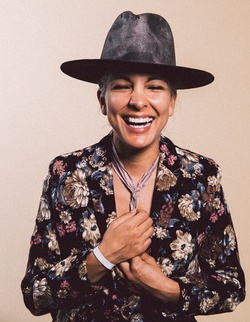 ---
Please contact a GDA agent for information.
---
Topics
Click on the topic name to see other speakers tagged with this topic.
Miki Agrawal
Social Entrepreneur and Disruption Expert
Miki Agrawal is a social entrepreneur known for breaking taboos and disrupting the status quo.

She was named 2018 Fast Company's "Most Creative People", 2017 "Young Global Leader" by World Economic Forum, "Social Entrepreneur of the Year" by the World Technology Summit, and was one of INC Magazine's "Most Impressive Women Entrepreneurs of 2016."

She co-founded THINX, a high-tech, period-proof underwear brand and led the company as CEO to a valuation of over $100 Million and to Fast Company's Most Innovative Companies of 2017, all while helping tens of millions of women period better.
She most recently founded TUSHY, a company that is revolutionizing the American toilet category with a modern, affordable, designer bidet attachment that both upgrades human health & hygiene as well as the environment from wasteful toilet paper consumption. She and her team are also helping fight the global sanitation crisis by bringing clean latrines to underserved communities in India through their partnership with Samagra. SNL recently covered TUSHY after its subway campaign was banned.

She is also the founder of the acclaimed farm-to-table, alternative pizza concept called WILD with 2 locations in New York City, one in Guatemala and more on the way.

Miki has written two books, "Do Cool Shit: Quit Your Day Job, Start Your Own Business and Live Happily Ever After" and now "Disrupt-Her: A Manifesto For the Modern Woman" both of which made #1 Amazon best seller list.
Miki is an identical twin, half-Japanese, half-Indian French Canadian, former professional soccer player, graduate of Cornell University and proud new mama of Hiro Happy


---