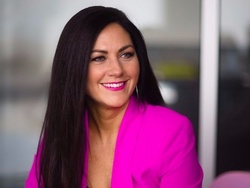 ---
Please contact a GDA agent for information.
---
Topics
Click on the topic name to see other speakers tagged with this topic.
---
Cindy Eckert (formerly Whitehead)
CEO and founder of Sprout Pharmaceuticals & The Pink Ceiling
Cindy Eckert (formerly Whitehead) is a highly regarded entrepreneur, a strong advocate for female entrepreneurship, a pharmaceutical leader and one of the few selfmade woman billionaires in history. The New York Times called her pharmaceutical product the "drug of a generation" and Fortune called her a "tireless force of nature." Associates of hers call her unapologetically pink.
Over a distinguished 22-year career in healthcare, she started and sold two businesses for more than $1.5 billion. Having co-founded and sold Slate Pharmaceuticals, which redefined long lasting testosterone treatment for men, she launched Sprout Pharmaceuticals immediately thereafter. As CoFounder & CEO of Sprout, the company broke through with the first ever FDA-approved drug for low sexual desire in women — dubbed "female Viagra" by the media. In 2015, Cindy sold the company for $1b cash. Everyone that was a part of the original Slate was gifted shares in Sprout.
Cindy's work has been featured in countless major publications including The New York Times, Fast Company, Financial Times, Vanity Fair, Bloomberg, CNBC, CBS, Fox, Yahoo and on the cover feature of Entrepreneur Magazine. Cindy has been an invited speaker at Fortune's Most Powerful Women, the Fast Company Innovation Festival, Ad Week, Inc. Magazine, and many more. She is on a mission to speak to as many women as possible about what it takes to achieve breakthrough business success. It's no surprise that JJ Ramberg, the host of MSNBC's Your Business says that "Cindy is one of our favorite guests. Though she has reached a level of success as a founder that most can only dream of, she is incredibly relatable and honest about what it takes to run a business. She offers the perfect combination of inspiration and advice and it's hard to come away from listening to Cindy speak without wanting to hear more."
Cindy's latest mission is to mentor, invest in, launch and build other women led or focused businesses. In 2016, she opened the doors to The Pink Ceiling — a cross between a VC firm, a 'pinkubator' and a consulting enterprise — where she is CEO. The Pink Ceiling is currently invested in 7 different companies at various stages of development. In very rare moments Cindy is hard at work trying not to work. But still wearing pink.
---