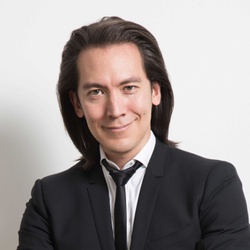 ---
Please contact a GDA agent for information.
---
Topics
Click on the topic name to see other speakers tagged with this topic.
---
Hear Mike's
Podcast Now
Mike Walsh
Bestselling Author of The Algorithmic Leader & CEO of Innovation Research Lab Tomorrow
Continuously offered up in client proposals, Mike Walsh is the CEO of Tomorrow, a global consultancy on designing companies for the 21st century. He advises leaders on how to thrive in the current era of disruptive technological change. Mike's clients include many of the global Fortune 500, and as a sought-after keynote speaker he regularly shares the stage with world leaders and business icons alike.

Mike is the author of three books, Futuretainment (2009), The Dictionary of Dangerous Ideas (2013) and his latest title, The Algorithmic Leader (2019). Futuretainment, published by Phaidon was the winner of the design award by the Art Director's Club in New York.
While on assignment in Hong Kong and inspired by the dramatic changes taking place in China and India, Mike founded his latest venture, Tomorrow – an innovation research lab focused on emerging technology and disruptive consumer behavior. Always in demand for his fresh insights and practical future-focused strategies, Mike has advised the CEOs and senior management teams at multinational companies including: the BBC, Fujifilm, Richemont, MSN, Star TV, Televisa, Philips, and HSBC.

Rather than focusing on the distant future, Mike takes an anthropological approach - scanning the near horizon for emerging technologies and disruptive shifts in consumer behavior, and then translating these into pragmatic plans for business transformation. He is an expert in the human factors behind strategic problems, why they exist and what it takes to fix them. A prolific writer and commentator, Mike's views have appeared in a wide range of international publications including BusinessWeek, Forbes and the Wall Street Journal.
Mike has delivered close to a thousand keynote speeches around the world to companies in almost every industry. His customized presentations leave audiences prepared and inspired to transform the way they do business.
As a global nomad and consumer trend scout, Mike does live research, in the trenches, with big corporations and entrepreneurs all over the world bringing a truly global perspective to every event.
Mike travels over 300 days a year worldwide: researching trends, collecting case studies and presenting on the future of business and leadership.
---