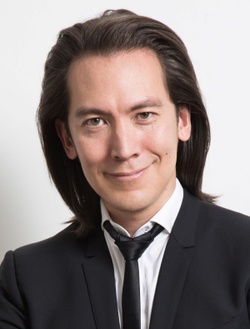 ---
Please contact a GDA agent for information.
---
Topics
Click on the topic name to see other speakers tagged with this topic.
---
Hear Mike's
Podcast Now
Mike Walsh
Featured
Bestselling Author of The Algorithmic Leader & CEO of Innovation Research Lab Tomorrow
Mike Walsh is the CEO of Tomorrow, a global consultancy on designing companies for the 21st century. For the past twenty years, he has been a leading authority on disruptive innovation, digital transformation and new ways of thinking. A global nomad from a diverse ethnic background, futurist and author of three bestselling books, Mike advises some of the world's biggest organizations on reinvention and change in this new era of machine intelligence.

A specialist in AI-powered transformation, Mike's work and research was recently profiled by the Rotman School of Management. His talent is being able to bridge the two worlds of disruptive technology and business leadership, translating deep tech into pragmatic recommendations for leaders to seize new opportunities, transform their organizations, and change their own thinking.

Mike is a prolific researcher who interviews innovators, scientists, entrepreneurs and corporate revolutionaries every year. Many of these conversations feature in his popular podcast, Between Worlds. A skilled facilitator, he excels at fireside chats with CEOs, customers and other thought leaders. He brings this consultative approach to personalizing insights and recommendations for his audiences, specializing in identifying 'mind grenades' or provocative questions that will challenge your team and stretch their thinking.

A prolific writer and commentator, Mike's views have appeared in a wide range of international publications including Inc. Magazine, BusinessWeek, Forbes and the Wall Street Journal. Recently, LinkedIn invited Mike to publish his weekly newsletter Tomorrowist about next generation leadership. A regular contributor to the Harvard Business Review, his articles explore a wide range of cutting-edge leadership topics including data-driven decision making, agile organizations, algorithmic management and AI ethics.
Mike's latest book, The Algorithmic Leader, offers a hopeful and practical guide for reinventing leadership and organizations. The book has been a global hit and is now available in Chinese, Japanese, Korean, German, Polish and Russian. In 2019, The Algorithmic Leader was selected to be given to the world leaders and executive attendees of the Ambrosetti Global Forum at Villa d'Este in Cernobbio, Italy.

Futuretainment, Mike's first book, was published by Phaidon and was the winner of the design award by the Art Director's Club in New York. Released in 2009, it predicted how the smartphone would reshape the media and marketing industry, and the imminent rise of social media, digital influencers and streaming entertainment. In The Dictionary of Dangerous Ideas, Mike anticipated breakthroughs in micro satellite networks, cryptocurrencies, remote work, digital protest movements, self-driving cars, drones and digital biology. A dynamic and engaging keynote speaker, Mike has given more than 1,000 talks over the last decade, from strategic briefings for the boards of companies like Verizon and Raytheon, to an employee summit for a healthcare corporation that filled a sports stadium with an audience of over 25,000 people. In addition to both in-person and virtual presentations, Mike also works with enterprise learning and development leaders to create compelling programs to up-skill teams for a world of AI-powered competition.
Corporate Experience
Mike has been a pioneer in the digital space since the 1990s, running both successful start-up ventures as well as holding senior leadership positions in established media organizations. With a background in corporate law and management consulting, he began his career at XT3, a spin-out from McKinsey and one of the first digital consulting firms created to help major companies embrace the embryonic Web. During the first dotcom boom, Mike launched the technology publishing group internet.com in Australia, which went on to become the leading local technology news and events platform in the country.
He also founded and ran Jupiter Research in the Asia Pacific, one of the first research agencies to track the early adoption of e-commerce and digital business models by online consumers. During this period, he was recognized as one of Australia's "Top 30 Entrepreneurs Under 30."
After his experiences in the Webspace, Mike spent five years in senior strategy roles at News Corporation where he helped shape the digital strategy for both their Australian newspaper and Asian TV divisions. Directly engaged by the CEO of Star TV to provide the company with a digital roadmap for their operations, he began his in-depth research into the fast growth markets of Asia.
While in Hong Kong and inspired by the dramatic changes taking place in China and India, Mike founded his latest venture, Tomorrow – an innovation research lab focused on emerging technology and disruptive consumer behavior. Always in demand for his fresh insights and practical future-focused strategies, Mike has advised the CEOs and senior management teams at multinational companies including the BBC, Fujifilm, Richemont, MSN, Star TV, Televisa, Philips, and HSBC.
In addition to his corporate profile, Mike is a published photographer and supporter of the Arts. His photographic images from his travels around the world helped his book, FUTURETAINMENT, win an Art Director's Club award in NYC. He has also served on the Director's Circle at the Australian Museum of Contemporary Art.
As a global nomad and consumer trend scout, Mike does live research, in the trenches, with big corporations and entrepreneurs all over the world bringing a truly global perspective to every event.
---