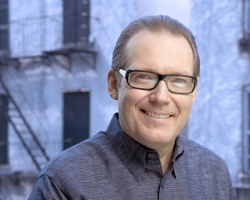 ---
Please contact a GDA agent for information.
---
Topics
Click on the topic name to see other speakers tagged with this topic.
Michael Rogers
The Practical Futurist
Select Testimonials
It's seldom the case that a speaker can hold our group's attention for two hours, especially without notes or AV, and he did so spectacularly.   Our members found his topic very enlightening, especially as it relates to the coming changes in technology and how best to invest.
---
We were absolutely delighted with your presentation and have received very positive feedback from management and customers alike.
---
Thank you for the excellent talk you gave to our audience yesterday. The range of topics you addressed was thought-provoking and exactly on target with the theme, "Building Bridges to the Future."
---
Some futurists are good storytellers with plenty of charisma but no 'wisdom' or experience and others have loads of experience but no charisma. You demonstrated both.
---
You were absolutely fascinating and the room was buzzing over lunch; you got everyone talking!
---
Many of the delegates mentioned that your session was the most informative of the program--many expressed that they especially appreciated your warmth and wit. We were very pleased that your remarks were so carefully tailored for our audience, and that you delivered exactly the message we had planned.
---
I've heard nothing but positive feedback on your presentation.  Everyone thoroughly enjoyed your speech.  They found it both educational and entertaining.  You definitely hit on some key points for the attendees with regards to technology.  I would highly recommend you to other groups who are looking for forward thinking speakers.
---
Michael presents as though he is talking with you, versus at you. He's someone you would love to be seated next to at any event!
---
We especially liked your storytelling. It led to a sense of excitement and sparked quite a dialogue among our team.
---
Michael's practical look into the future was invaluable as it addressed shifting global demographics, emerging economies, technology and the future of the supply chain. Not only did he lead a discussion on challenges but also on opportunities. He laid a strong foundation for planning for the future. He is indeed a "practical futurist."
---
You hit a home run with this group. Long-time bar association executives who can be somewhat jaded were particularly enthusiastic about your presentation.
---