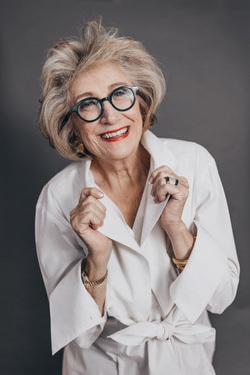 ---
Please contact a GDA agent for information.
---
Topics
Click on the topic name to see other speakers tagged with this topic.
---
Kathryn Childers
Featured
Women's History Trailblazer: One of First Five Women Special Agents in United States Secret Service
Select Testimonials
"We are writing to express our gratitude and thank you for your wonderful presentation at our Women's Fund of Door County luncheon. We received so many positive comments about your speech, your sense of humor, and your candor about life. Your unique talent is truly the culmination of a lifetime of practicing what you preach – "Doing it Scared!"
---
"We had one of the largest turn-outs for a speaker and Kathryn captivated them until the end. Students loved her! She was dynamic, entertaining, funny and insightful. Thank you for sharing and inspiring our students to "sell their sizzle".
---
"Through entertaining and inspiring examples, Kathryn showed us how we could significantly impact the fight against cancer even if we didn't have cancer. Most importantly, she helped us raise nearly $60,000 for medical equipment and oncology services – the highest total ever in our event's history!"
---
"Kathryn's message brought a local, professional, and intriguing message for the Del Mar College Graduates. Her experiences as a Secret Service Agent and a local television personality kept the graduating class of 2014 on the edges of their seats, and the pride she demonstrated in our community was icing on the cake! I was proud."
---
"We were all blown away by professional speaker Kathryn Childers. She was entertaining, funny, knowledgeable, engaging … I have run out of adjectives! I repeatedly heard the comment, "She was the best speaker we've had at our meetings!" And I agree – she was wonderful. My only regret is that we ran out of time so quickly. She graciously signed copies of her book, visited with everyone who wanted a word, and was thoroughly delightful. Her message of "do it scared" was right on target for our group."
---