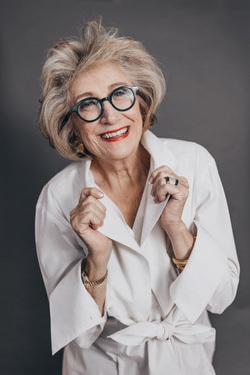 ---
Please contact a GDA agent for information.
---
Topics
Click on the topic name to see other speakers tagged with this topic.
---
Kathryn Childers
Featured
Women's History Trailblazer: One of First Five Women Special Agents in United States Secret Service
Kathryn made history as one of the first five female U.S. Secret Service special agents hired in 1971. She joined 1,100 men in the elite agency where she shot holes in the "glass ceiling" investigating counterfeit, working undercover, and protecting the President and world leaders. Fondly called the "pistol packin' nanny," Kathryn was charged with protecting the Kennedy children – Caroline and John Jr. – while traveling with Former First Lady Jacqueline Kennedy Onassis.
A master of reinvention, Kathryn went on to have a whirlwind of professional and diverse careers. She became a broadcast journalist producing and hosting her own morning talk show for 18 years on the local ABC affiliate, award-winning community advocate creating an organization that to date has given away more than 18,000 free mammograms to women in need, as well as author and publisher selling more than 100,000 of a trio of books about a fluke Texas snowstorm.
Today, Kathryn is sought after on the national speaking circuit not only entertaining audiences with her astonishing and fascinating history, but motivating, engaging, and inspiring audiences to real action. She shares the secret of her success coaching all ages to grasp her life-long mantra – "do it scared!" – and make it their own and taking that first step to courage. Kathryn brings the perfect balance of a one-of-a-kind experience blended with story-telling charm ... taking audiences on a jaw-dropping ride-along sharing anecdotes of training and protecting some the world's most important people.
---