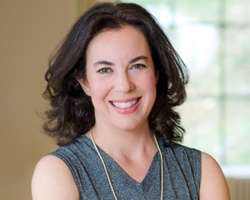 ---
Please contact a GDA agent for information.
---
Topics
Click on the topic name to see other speakers tagged with this topic.
---
Hear Jennifer's
Podcast Now
Jennifer Goldman
Organizational Psychologist and the Founding Principal of Alignment Strategies Group
Select Videos
Are you struggling with conflict at work, home or in the world? In this TEDx Talk, ASG founder Dr. Jennifer Goldman-Wetzler shows us how to free ourselves even when conflict resolution seems impossible. Using an inspiring personal example, Jennifer helps us see that when our attempts to resolve conflict fail, we can free ourselves by doing something different and taking pattern-breaking action. She demonstrates three practices: mapping out the conflict; honoring shadow values; and listening to our emotions, and how they can help you free yourself from conflict even without anyone else's cooperation.

Dr. Jennifer Goldman-Wetzler is a high-impact organizational psychologist, keynote speaker, and executive coach who helps CEOs and their senior teams optimize organizational health and growth by enabling them to master conflict.

This talk brings to life the concepts in Dr. Jennifer Goldman-Wetzler's forthcoming book, "Optimal Outcomes," and introduces a set of practices that allow you to free yourself from even the toughest situations and conflicts – at work, at home, and in public life – even without cooperation from the other side. Jennifer Goldman discusses how to identify what undermines your ability to solve the problem, discover new levers for change, harness difficult emotions, imagine and test sustainable optimal outcomes, and take the pattern-breaking actions required to bring lasting transformation.