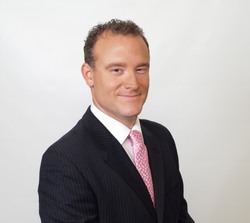 ---
Please contact a GDA agent for information.
---
Topics
Click on the topic name to see other speakers tagged with this topic.
---
Hear Jason's
Podcast Now
Jason Schenker
Top-Ranked Financial Market Forecaster, Futurist, Bloomberg Columnist, and Best-Selling Author
Jason Schenker is the Chairman of The Futurist Institute and the President of Prestige Economics.
He is the world's top-ranked financial market futurist, and Bloomberg News has ranked Mr. Schenker one of the most accurate forecasters in the world in 38 different categories since 2011, including #1 in the world in 23 categories for his forecasts of the Euro, the Pound, the Swiss Franc, crude oil prices, natural gas prices, gold prices, industrial metals prices, agricultural commodity prices, and U.S. non-farm payrolls.
Mr. Schenker has written four books that have been #1 Best Sellers on Amazon: Commodity Prices 101, Recession-Proof, Electing Recession, and Jobs for Robots. Mr. Schenker is also a columnist for Bloomberg View and Bloomberg Prophets. Mr. Schenker has appeared as a guest and guest host on Bloomberg Television, as well as a guest on CNBC. He is frequently quoted in the press, including The Wall Street Journal, The New York Times, and The Financial Times. His latest book is titled Robot-Proof Yourself, and his next book is The Robot and Automation Almanac, which will be released on 5 January 2018.
Prior to founding Prestige Economics and The Futurist Institute, Mr. Schenker worked for McKinsey & Company as a Risk Specialist, where he directed trading and risk initiatives on six continents. Before joining McKinsey, Mr. Schenker worked for Wachovia as an Economist.
Mr. Schenker holds a Master's in Applied Economics from UNC Greensboro, a Master's in Negotiation from CSU Dominguez Hills, a Master's in German from UNC Chapel Hill, and a Bachelor's with distinction in History and German from The University of Virginia. He also holds a certificate in FinTech from MIT, an executive certificate in Supply Chain Management from MIT, a graduate certificate in Professional Development from UNC, and an executive certificate in Negotiation from Harvard Law School. He is currently pursuing a certificate in Cybersecurity with NACD and Carnegie Mellon University. Mr. Schenker holds the professional designations CMT® (Chartered Market Technician), CVA® (Certified Valuation Analyst), ERP® (Energy Risk Professional), and CFP® (Certified Financial Planner). He is also a Certified Futurist and a Board Governance Fellow of the National Association of Corporate Directors.
Mr. Schenker is an instructor for LinkedIn Learning, and his course on Financial Risk Management was released in October 2017. Additional courses will be forthcoming in 2018 and 2019.
Mr. Schenker is the founder of Hedgefly, a risk management platform using Blockchain technology and a Bitcoin backend that he developed while studying FinTech at MIT. He successfully exited Hedgefly in September 2017, when it was acquired by SpreadBot, a technology firm that creates automated chatbots to perform complicated tasks and make spreadsheets talk. Mr. Schenker is now a Partner at SpreadBot. As a successful blockchain entrepreneur, Mr. Schenker is pleased to fill the role of the Executive Director of the Texas Blockchain Association. He is also the Futurist for Hyperloop Massachusetts.
Mr. Schenker is also involved with a number of nonprofits. He is a member of the Texas Business Leadership Council, the only CEO-based public policy research organization in Texas, with a limited membership of 100 CEOs and Presidents. Mr. Schenker is also a member of the Central Texas Angel Network, which is the most active angel investor network in the United States, and he is also on the advisory board of Hidden Star, a non-profit focused on helping low-income, minority, and disadvantaged entrepreneurs start and succeed.
Mr. Schenker is a member of the 2018 Director class of the Texas Lyceum, a non-partisan, non-profit that fosters business and policy dialogue on important U.S. and Texas issues.
---