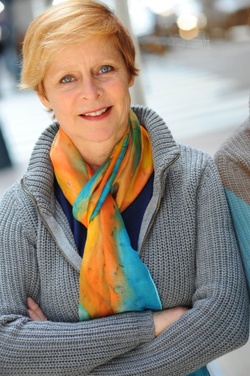 ---
Please contact a GDA agent for information.
---
Topics
Click on the topic name to see other speakers tagged with this topic.
---
Janine Latus
Speaker on Sexual Assault and Domestic Violence
In April 2002, Janine Latus' youngest sister, Amy, wrote a note and taped it to the inside of her desk drawer. "Today Ron Ball and I are romantically involved," it read, "but I fear I have placed myself at risk in a variety of ways. Based on his criminal past, writing this out just seems like the smart thing to do. If I am missing or dead this obviously has not protected me..."
That same spring Janine Latus was struggling to leave her marriage – a marriage to a handsome and successful man; a marriage in which she felt afraid, controlled, inadequate, and trapped.
Ten weeks later, Latus had left her marriage. She was on a business trip to the east coast when she received a call from her sister asking if she'd heard from Amy. She was missing. After an extensive search, it took more than two weeks to find Amy's body. It took nearly two years before her killer, her former boyfriend Ron Ball, was sentenced for her murder.
Haunted, Latus turned her journalistic eye inward. How did two seemingly well-adjusted, successful women end up in strings of physically or emotionally abusive relationships with men?
Her New York Times bestseller, If I Am Missing or Dead, is a heart-wrenching journey of discovery as she traces the roots of her own – and her sister's – victimization with unflinching candor. At once a confession, a call to break the cycle of abuse, and a deeply-felt love letter to her baby sister, If I Am Missing or Dead is an unforgettable read, and Latus is an unforgettable speaker.
An award-winning story teller, she has spoken to hundreds of audiences on military bases, university campuses, high schools, shelters, front-line providers conferences and corporations, using her own story to inspire audience members to recognize abuse, escape or intervene, and go on to seek healthy relationships going forward. She tailors her talks to the audience, raising awareness or funds, re-invigorating burnt-out workers, helping people recognize the difference between healthy and toxic love. Her dynamic, emotional talks resonate long after she has left the stage.
---