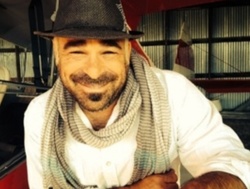 ---
Please contact a GDA agent for information.
---
Topics
Click on the topic name to see other speakers tagged with this topic.
---
Eric Saperston
Leadership, Innovation & What It Takes To Be Extraordinary
One of the most in-demand and unconventional keynote speakers in the world, Eric Saperston is a gifted storyteller who captivates people's imagination and offers audiences practical leadership lessons learned from the wisest and most successful people in the world. Eric travels the globe helping individuals and organizations break through limiting beliefs and communication barriers to maximize human potential.
A successful entrepreneur, best-selling author and award-winning filmmaker Eric shows us how asking powerful questions can drive innovation, build strategic partnerships, increase sales, inspire customer loyalty and open doors to the most powerful people in the world.
Eric has spoken for Harvard University, Stanford University, at Nike, Coke, and General Mills, Trader Joe's, United Way, SAP, International Spa Association, US Bank, YPO, EO and the Million Dollar Round Table as well as countless others. He has been a featured guest on The Today Show, CNN, CNN Headline News, PBS and has been written about in the New York Times, Washington Post, Wall Street Journal, Atlanta Journal Constitution, Spin Magazine, Fast Company and National Geographic.
Eric has spent the last 20 years calling up world leaders, business tycoons, entertainment icons, visionaries and pioneers and taking them out for coffee to ask them about the lessons they've learned, the struggles they've endured, and what advice and counsel they'd give others for a successful road ahead.
Eric's interviews include: President of Coke, Donald Keogh, Comedian Billy Crystal, Director of The FBI Bill Sessions, Astronaut Kathy Thornton, Country Legend Kenny Rogers, Founder of The Ritz Carlton Horst Schulze, Governor Ann Richards, Director Spike Lee, Rock Legend Steven Tyler, Olympian Carl Lewis, World Renown Architect John Portman, Actor Henry Winkler, Both founders of Home Depot Arthur Blank and Bernie Marcus, The Chairman of UPS Oz Nelson and hundreds more.
Eric documented four years of his life on the road to create "The Journey" feature film which was awarded "Most Memorable Film" at South By Southwest Film Festival, sold at Sundance Film Festival and played at AMC Theaters across the country to standing ovations. Eric also sold his series "Reflections From The Road" to Volkswagon which landed him a coveted spot in the Wall Street Journal for creating the first webisodic series. These accolades launched Eric on international speaking career.
Eric is the author of the best selling book, Live In Wonder: Quests, Quotes and Questions to Jumpstart Your Journey. He travels worldwide giving keynote addresses, surfing, interviewing legends and watching as many sunrises as possible.
---