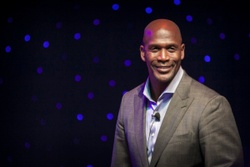 ---
Please contact a GDA agent for information.
---
Topics
Click on the topic name to see other speakers tagged with this topic.
---
Eric Boles
Leadership and Change Management Expert
Select Testimonials
Thanks for joining us last week. You were a great addition to our meeting! Your energy, passion and message about "Leading and Managing Change" in all types of situations really resonated with our attendees. It was just what we needed!
---
PETERBILT MOTORS COMPANY A COMPANY 1700 WOODBROOK STREET DENTON, TEXAS 76205-7864 940-591-4000 FAX: 940-591-4260 April 24, 2017 To Whom It May Concern: Peterbilt Motors Company invited Eric Boles to address an audience of our Dealer Principals and senior PACCAR, Inc. executives at our annual Dealer Meeting event. Eric's message was on topic with our meeting and exceeded our expectations. Eric's presentation on Leading and Managing Change, Teamwork, Cultural Transformation and Peak Performance greatly impacted our audience. Peterbilt continuously raises the bar in product and team performance. Eric's message to avoid complacency inspired the audience and received many compliments from the business men and women in attendance. I thoroughly enjoyed working with Eric for our annual event. He is an exceptionally inspirational presence whose passion is infectious to all who hear him.
---
To Whom It May Concern: Eric Boles served as our keynote speaker for the Medtronic Diabetes Global Leadership Team (GLT) Summit on June 2, 2016. The Summit was attended by 175 global leaders from throughout our organization, who gathered to align on our strategy and goals for the year. As with many industries, the competitive pressure on our business continues to intensify. Part of the aim of the Summit was to rally our leaders to embrace our market dynamics with a sense of competitiveness, as well as to think differently about how to inspire their teams to strive vigorously to achieve the bold goals that we have set for our organization. To exemplify that sense of competition, our theme for the Summit was GAME ON. I was truly impressed with Eric's presentation. He was both inspirational and relevant, and his presentation was tailored to match our culture and the Mission of our organization. In fact, Eric incorporated the Mission of our organization into his speech and immediately connected with our audience by sharing his family's personal experience with diabetes. He did this with humility and gratitude for what we are hoping to achieve as an organization. Eric addressed leadership in a very unique way, addressing the very human obstacles – including fear – that we need to overcome in order to achieve our goals. He also emphasized the importance of embracing the old adage of 'the whole is greater than the sum of its parts', and that to achieve our goals as an organization, we need to grow and nurture our talent and foster an environment where we maximize the potential of our employees, in order to create a more effective organization. Eric is an authentic and passionate speaker, and he held a commanding presence on stage as our keynote speaker. His style, demeanor and message clearly conveyed our theme of GAME ON., and we all walked out of the keynote feeling motivated and ready to win. It was an absolute pleasure to have Eric join us at our event, and I am pleased to recommend him as a keynote speaker. Sincerely, Hooman Hakami Executive Vice
---
The words Eric Boles spoke were so "real", motivating, inspiring and allowed me to self-reflect on how I can change me to better assist as a developing leader for those who are looking to me to lead. He was such a great speaker!!! I could've listened to him for hours on end! I quickly came back telling the team how great he was and how they should've been there as me explaining it to them did no justice. Wow!! What a way to start a morning.
---
April 14, 2016 To whom it may concern, Motorola Solutions, Inc. ("Motorola") recently asked Eric Boles to address an audience exceeding 2000 participants in Las Vegas, Nevada which represented Motorola's North America reseller community. Motorola has a long history of guest speakers at the event in Las Vegas and the bar is fairly high to make an impact. Eric's session on "Managing and Leading Change" received an "incredible" response with a very positive "buzz" and many comments afterwards including requests to share his presentation via video to fellow colleagues who were not at our conference. It made a real impact on people and had exactly the result we wanted which was to convince people that as Eric said "if you are coasting that means you are going downhill". Many of the attendees also made sure we knew that his discussion had meaning to their personal lives outside of business. It was definitely the best guest speaker Motorola has had in many years at this event! I thoroughly enjoyed working with Eric before and during the event. He is a true inspirational leader whose passion is infectious to all he meets. Sincerely, Scott Adler Vice President Commercial Markets and Channel Sales North America
---
For anyone else considering Eric, if you want a speaker who is authentic, engaging and humble, and who can motivate your audience to positive action, Eric is your guy. Having spent time with him, I can honestly say that he is genuine and thought provoking. I'm proud to say that I can highly recommend Eric! Take care and I hope to see you soon.
---
September 15, 2016 here at Hasbro. We are all delighted with the presentation you gave and the impact you had on our participants. Your passion and energy combined with your key messages and stories struck a chord with our group. Add to that your sense of humor and you have one killer presentation style! Your ability to connect with and make someone feel listened to when talking to someone one-on-one or in the group setting is inspirational. I thought I was a good listener but clearly I still have some work to do. As the program manager for Management Academy, it was a welcome feeling to be in such good hands that I could sit back, relax and enjoy your presentation. I hope my words in this letter convey how much we enjoyed and valued your presentation. So much so that we are looking for ways to be able to invite you back next year! Thank you again for a wonderful experience!
---