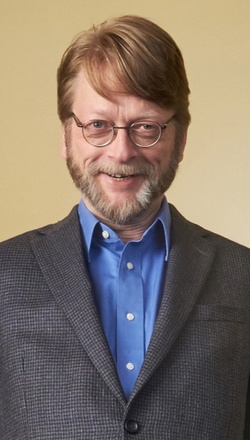 ---
Please contact a GDA agent for information.
---
Topics
Click on the topic name to see other speakers tagged with this topic.
---
Douglas Vakoch, Ph.D.
President of METI–Messaging Extraterrestrial Intelligence, disrupting conventional science as "The Man Who Speaks for Earth."
Select Testimonials
I write to provide enthusiastic testimony of Doug Vakoch's public speaking. I engaged Doug to offer a lecture as part of our programming for Starstruck: The Fine Art of Astrophotography, one of our most popular exhibitions ever. Doug gave a lecture titled "Aesthetics for Aliens: Art, Music, and Extraterrestrials." It touched on—at a minimum—history, mathematics, biology, astronomy, anthropology, art history, philosophy, and music, and engaged our audience in some of the most interesting and difficult questions facing humankind. After the talk and a lively Q&A session, the audience left having had their imaginations ignited. Doug Vakoch is an articulate, charming, and funny speaker with a knowledge of SETI and related endeavors that runs both wide and deep. I heartily commend him to you without hesitation.
---
If I were to distill my impression of Dr. Vakoch as a public speaker, I would contend that he is a compelling storyteller, capable of catalyzing the imagination of an audience, while conveying scientific depth through critical thinking utterly without the ponderous authority so often encountered in experts. To be more specific, he is a genuine public intellectual—a scientist-philosopher of the first order. And in a single word, he is enchanting.
---
Doug's contributions are always superb and captivating. His subject is compelling, yes. But along with that he brings his deep philosophical thinking about the implications that an encounter with intelligence from elsewhere might encompass. This is paired with scientific acumen and masterful storytelling ability. Doug can take an audience "where they've never gone before" and if that reference seems lighthearted it is sincere because your audience will find that these ideas are not the stuff of fiction. Indeed, a few hours in conversation with Doug will change the way you think about life, the complexities of otherness, aggression, and the evolution of societies. Thinking about aliens with Dr. Doug Vakoch brings you right back to our human condition. My audiences always stay for every word. I highly recommend the experience for you and your audiences.
---