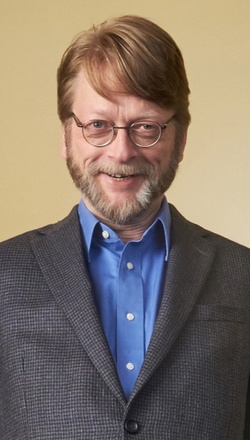 ---
Please contact a GDA agent for information.
---
Topics
Click on the topic name to see other speakers tagged with this topic.
---
Douglas Vakoch, Ph.D.
President of METI–Messaging Extraterrestrial Intelligence, disrupting conventional science as "The Man Who Speaks for Earth."
As a scientist searching for life in the universe and working to preserve civilization on Planet Earth, Dr. Douglas Vakoch travels between the inner space of the psyche and the outer space of the cosmos. As a leading researcher in both astrobiology and psychology, he provides unique insights into the human significance of the age-old question, "Are we alone?"
Disruption requires the courage to take risks. Drawing on his expertise as a leader, scientist, and psychologist, Dr. Vakoch shows how we can foster a mindset and work environment that lead to technological innovation. After sixteen years as part of Silicon Valley's SETI (Search for Extraterrestrial Intelligence), he broke away to create METI, the disruptive scientific organization whose namesake activity is Messaging Extraterrestrial Intelligence—the controversial project that sends powerful, intentional radio signals to nearby stars, in the hope of provoking a response. The New Yorker magazine calls him "The Man Who Speaks for Earth." In 2017 he led METI's radio transmission to a nearby star from the European Incoherent Scatter Scientific Association (EISCAT) antenna in Tromsø, Norway, and he eagerly awaits 2042—the first year that humanity could receive a reply.
To sustain interstellar messaging projects across the generations, Dr. Vakoch explores the human dimensions of global warming and other threats to the long-term survival of civilizations, showing we can embrace both exploration and human welfare at the same time. He emphasizes the vital importance of engaging with nature—amid our hectic urban lifestyles—to secure a greater sense of serenity and fulfillment. He is the general editor of the book series Ecocritical Theory and Practice, which has published over sixty books exploring ways that fiction can help us address today's most critical environmental problems. As a licensed clinical psychologist, Dr. Vakoch draws on lessons from astronauts for dealing with stress down here on Earth.
With graduate degrees in both history and philosophy of science and in psychology, for twelve years Dr. Vakoch taught the next generation of psychotherapists in the clinical psychology doctoral program at the California Institute of Integral Studies (CIIS). He is now professor emeritus at CIIS, as well as CEO of Green Psychotherapy, PC, a psychological practice in Northern California, with offices in Berkeley, Oakland, and San Francisco.
Dr. Vakoch is an elected member of the International Astronomical Union and the International Institute for Space Law, and he received the Leonardo da Vinci Space Art Award "for dedication to the language and codes for broader cosmic reception and communication and their broader cultural meanings." He has edited fifteen books with such diverse titles as Communication with Extraterrestrial Intelligence (SUNY Press), The Drake Equation: Estimating the Prevalence of Extraterrestrial Life through the Ages (Cambridge University Press), Psychology of Space Exploration (NASA), and Ecopsychology, Phenomenology, and the Environment (Springer). He also serves as editor-in-chief of Springer's Space and Society book series.
Dr. Vakoch frequently appears in film and television documentaries, where he explores the hunt for life in the cosmos. His expertise includes space exploration, the societal impact of science, and environmental threats to humanity's long-term survival. His work has been featured in such publications as The New York Times, The Economist, Nature, Science, and WIRED, and he has been interviewed for numerous radio and television broadcasts on networks ranging from the BBC to the Science Channel, with recent segments on PBS's "NOVA Wonders" and the History Channel's "In Search Of" with Zachary Quinto. He was featured in the films Calling E.T., which had its American premiere at SXSW, and The Visit, which premiered at Sundance.
---