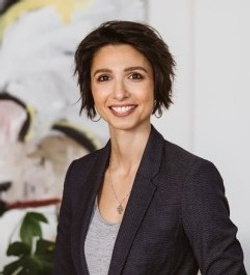 ---
Please contact a GDA agent for information.
---
Topics
Click on the topic name to see other speakers tagged with this topic.
---
Hear Diana's
Podcast Now
Diana Kander
NYT Best-selling Author, Entrepreneur, Forbes Contributor, a Senior Fellow at the Kauffman Foundation
Select Testimonials
"Diana's talk was amazing. It was one of the most talked about presentations at our two day event - both over social media and in person at the event itself. She was funny, engaging, thought provoking and truly able to connect with the audience - and it definitely showed. The gushing praise we received from our attendees was overwhelming."
---
"Diana Kander and Andy Fromm offer a powerful and persuasive argument. What ultimately undermines companies isn't the wrong strategy, sloppy marketing or inadequate financing. It's lack of curiosity. This fun business fable will show you how to institutionalize curiosity and avoid the blind spots that trouble most organizations. "
---
"The Partnership was extremely happy with Diana Kander's presentation at our annual breakfast. We received a significant number of positive comments from a cross section of the community; economic development investors, elected officials and entrepreneurs. Diana's presentation was thought provoking and left attendees with an understanding of how they can become involved and assist growing startup companies in our community. Diana was very engaging, entertaining and gave timely advice. Obviously Diana is an expert in the field."
---
"Diana Kander's All in Startup and the training that she provided my product management team contains the principles that can make a significant impact on our organization's business results. My team really enjoyed the hands on interaction with Diana and the mentoring that she provided. The level of engagement from Diana made it really meaningful and much more personal. Most importantly the training has provided a roadmap for transforming our business into a more entrepreneurial company."
---