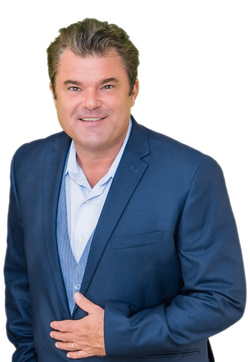 ---
Please contact a GDA agent for information.
---
Topics
Click on the topic name to see other speakers tagged with this topic.
---
Dean Lindsay
Change & Customer Service Expert / Humorous & Engaging Keynote Speaker / Award-Winning Business Author
Award-winning business author, Dean Lindsay – CEO of The Progress Agents LLC and Founder of World Gumbo Publishing – is a successful entrepreneur, a skilled business culture consultant, and a powerful keynote speaker with a humorous and engaging approach (watch demo below). The popular host of the upbeat business program, 'The DEAN's List', airing on C-Suite Network TV, Dean has been hailed as an 'Outstanding Thought Leader on Building Priceless Business Relationships' bySales and Marketing Executives International as well as:
'a Master of Progress' by Jay Conrad Levinson (Father of GUERRILLA MARKETING)
'The Dean of Sales and Service'by Business Class News
a 'Sales and Networking Guru' by the Dallas Business Journal
'America's Progress Agent' by The Strategic HR Forum
Dean's books, including HOW TO ACHIEVE BIG PHAT GOALS (Recommended as one of the '21 BEST GOAL SETTING BOOKS TO READ' on PositivePsychology .com) have sold over 100,000 copies worldwide and have been translated into Chinese, Hindi, Polish, Korean, Spanish and Greek. His new book, PROGRESS LEADERSHIP: Say NO to Change Management.
Endorsement from Ken Blanchard (The One Minute Manager) for Dean Lindsay's new book PROGRESS LEADERSHIP: Say NO To Change Management …
"Leaders can't keep change from happening. The only thing we can do is transform how we think about it—and help our teams do the same.
Progress Leadership
from 'America's Progress Agent' Dean Lindsay is
a much needed kick in the pants for every leader
. If you would rather be leading progress instead of managing change, read this book!"
– Ken Blanchard, coauthor of The New One Minute Manager® and Servant Leadership in Action
Over the years, Dean's thoughts on authentic business development by building and strengthening PROGRESS LEADERSHIP focused work cultures have been endorsed by a who's who of international business thought leaders including Ken Blanchard (author of THE ONE MINUTE MANAGER) who calls Dean's writings "a much needed kick in the pants."
Dean Lindsay:
is an Active Member of the Viktor Frankl Institute of Logotherapy
a Cum Laude Graduate of the University of North Texas
served as Guest Lecturer to both the UCLA and University of Dallas MBA programs as well as the International Call Management Institute
has had the privilege of sharing his profitable business growth insights on stages across the globe including: Spain, Turkey, Poland, Ecuador, Mexico, Canada, Venezuela, Sweden and the islands of Aruba and Jamaica
Dean's national and international clients include: United States Patent and Trademark Office, KPMG, American Airlines, Young Professionals' Organization (YPO), True Value Hardware, Texas A&M, New York Life, Aramark Canada, Century 21, Precision Tune Auto Care Franchising Inc., Electrical Components International (Poland, Mexico & Canada), House of Blues, Anthem, Entrepreneurs' Organization (EO), Michigan State University, Pacific Life & Annuity, Marriott, El Nacional (Venezuela), Heinz, First Heritage Credit Union, Hilton, Relax the Back, American Express, Western Union, Verizon, John Hancock Financial, HANDHELD (Sweden), Amway, Nestle,Gold's Gym, FASTSIGNS Intl., Bell Partners, EKOS (Ecuador), LPL Financial, UNITS Franchising Group, MENARDS, ConocoPhillips, Haggar Clothing, Workout Anytime Franchising Systems LLC and the United States Peace Corp.
Dean has served as a featured contributor to Entrepreneur's Organization's (EO) OCTANE Blog, HR. com's Leadership Excellence Magazine, CEOWorld Magazine, The Smart Manager (India), Training Magazine Europe, Executive Travel, Sales and Service Excellence, Networking Times and the American Management Association's Moving Ahead magazine as well as numerous podcasts and the audio magazine Selling Power Live. His business views have also been featured on the Voice of Americaradio as well as the Dallas Morning Newsand Monster.com.
Each of Dean's keynote presentations and fully customized sales, customer service and executive coaching programs – in person & virtual – are designed to help reach each client's desired outcomes. Here are some of his most requested topics:
Committing to Progress Leadership: Say No to Change Management!!
ROCK the Customer Experience – in person, on the phone & on line.
How to Achieve Big PHAT Goals / Program focused on Taking Consistent Mindful Action and is customized for Safety Goals, Health Goals, Team Goals, Customer Service Goals , Sales Goals, etc.
OPTIMISM is an ASSET / Harnessing the Power of Resilience & the Power of Choice. Program features insights from the work & life of Dr. Viktor Frankl.
PRICELESS PROSPECTING / Mastering the New Laws of Business Networking… Going for the SALE even at a social distance in a challenging business landscape!!
Be Progress.
___________________
Topics:
Change
Customer Service
Leadership
Humor
Motivation
The Customer Experience
Employee Engagement
Goal Setting
Teamwork
---