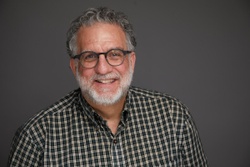 ---
Please contact a GDA agent for information.
---
Topics
Click on the topic name to see other speakers tagged with this topic.
---
Hear David's
Podcast Now
David Polinchock
Accomplished Innovator in Media, Technology and Experience
Select Testimonials
David is a masterful catalyst for innovation in marketing and storytelling using technology as a vehicle to connecting with customers.
---
David's presentations engage the crowd whether they are playing an audience participation game on screen or hearing about new technologies that will help their business. He's always on the cutting edge and he doesn't just deliver a speech - he lives his message
---
These days, many of us are so focused on the day to day that we lose sight of the incredible need to focus on future possibilities. David Polinchock makes you see the world through a different set of lenses and imagine new ways to think and grow. The endless opportunities for business growth spew from this man's incredible creative mind in unimaginable ways. He is a talent you simply have to experience.
---
This was the best presentation of the course. Very engaging and enthusiastic. I loved his energy and openess. I will remember this session for life. I loved his storytelling. He was confident and knowledgeable.
---