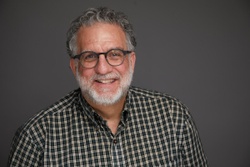 ---
Please contact a GDA agent for information.
---
Topics
Click on the topic name to see other speakers tagged with this topic.
---
Hear David's
Podcast Now
David Polinchock
Accomplished Innovator in Media, Technology and Experience
Over the years, David has been involved in a wide range of experiential advertising programs, the introduction of virtual reality as a marketing tool and city festivals. He was even a Disney performer. He brings all of those experiences to his speaking engagements, which allow him bring his presentations to life.
With over 20 years of professional speaking engagements, David has challenged marketers to create better stories and to understand how consumers want to hear and be engaged by those stories. He has given presentations for a wide range of companies, including Razorfish, Microsoft, msnbc.com, MTV Networks, the Newspaper Association of America, Nokia, GSK, Pepsi, Nike and Ogilvy, among many others.
He demonstrates through selected case studies and his early VR experiences, that it is not enough today to simply play with the latest technologies. One must also understand their role in creating compelling, authentic and relevant brand experiences.
David is also a pioneer in the use of VR for advertising and marketing, starting in 1991. His work has won a Cannes Lion, 2 Gold Pencils, a Best Trade Show award and his AudienceGames work for Volvo was called "one of the best marketing ideas in the world." He also produced many of the early promotions that used VR. He has spoken extensively on how VR would impact advertising and over the years and has put tens of thousands of people through VR experiences. This has given him an excellent understanding of what makes a great experience, which he brings to life with his stories.
With his previous roles as the Director of the AT&T AdWorks Lab and the Director at the PwC Experience Center, David is able to combine the skills needed to present within those corporate environments with his theatrical training to create engaging and memorable experiences for his audiences.
---