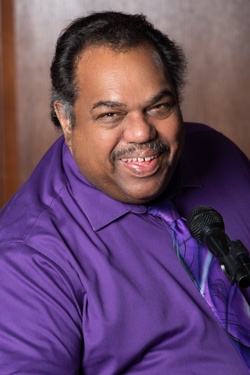 ---
Please contact a GDA agent for information.
---
Topics
Click on the topic name to see other speakers tagged with this topic.
---
Daryl Davis
Featured
Musician, Author, Racial Justice Activist, Compelling Unifier, Klan Whisperer, and Award-Winning Conflict Navigator
Select Testimonials
"Your advice on how to 'sit down and listen to others' was very well received. The standing ovation you received was proof positive that the message resonated with everyone."
---
"Your presentation was riveting. You are such an engaging speaker and your story is powerful. We are humbled and inspired by the lessons you shared with us, and the knowledge that each of us can make a difference."
---
"Daryl Davis really connected to our audience in ways that are difficult to measure. The past year we've all been living through difficult and trying times and it's nice to hear someone who can break down barriers and remind all of us of our humanity. Daryl has proven that one person can make a difference and we should all strive to emulate his accomplishments. His message is simple, yet so important at the same time. I would recommend Daryl as a speaker for any audience, at any age."
---
My father, Dr. Martin Luther King, Jr. said, "Cowardice asks the question, 'Is it safe?' Expediency asks the question, 'Is it politic?' Vanity asks the question, 'Is it popular?' But, conscience asks the question, 'Is it right?' And there comes a time when one must take a position that is neither safe, nor politic, nor popular, but one must take it because one's conscience tells one that it is right." Daryl Davis continues to take a position that is not safe, political, or popular, but is right because it is driven by his conscience and courage. The work that Daryl is doing to bridge the divide, sets an example for our nation and world to follow in light of the current racial tensions. Daryl is truly committed to creating the Beloved Community where hate no longer exists, but love prevails."
---