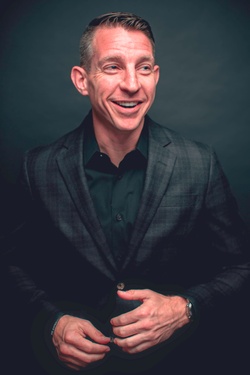 ---
Please contact a GDA agent for information.
---
Topics
Click on the topic name to see other speakers tagged with this topic.
---
Hear Dan's
Podcast Now
Dan Waldschmidt
Keynote Speaker, Business Strategist and Ultrarunner
YOU HAVE TO BE SOMETHING IN LIFE. WHY NOT BE AWESOME?
Dan Waldschmidt doesn't just talk about success. He's obsessed with it. As a champion ultra-runner and elite strategist to business leaders across the world, Dan pushes the limits of high performance in everything that he does. Whether it is helping a Fortune 100 business grow an emerging business unit by 1,000% year-over-year or showing a new work-from-home entrepreneur how to drive radical progress with limited resources—Dan uses every ounce of his energy to build winners. He calls it "EDGY". You might call it "that thing I knew I needed but couldn't put into words".
He has fought depression (and MMA), spearheaded his own multi-million dollar company turnaround, and writes a popular blog that over 30 million people around the world read. If you care about these sort of things, The Wall Street Journal praised his writing as one of the most influential sales and business blogs. His insights have been published in Business Insider, Forbes, Vanity Fair, CNBC and countless other news, radio, podcast, and TV outlets.
You're probably reading Dan's bio right now because someone shared one of his articles or told you that he should speak at your next event. Right? So reach out. Say "hey". If you want to be awesome, he wants to help you.
Whether it is a 45-minute keynote as part of your company's annual sales kick-off or a 3-hour working session with your senior leadership team at a retreat, Dan will inspire you to think differently—and be awesome.
---