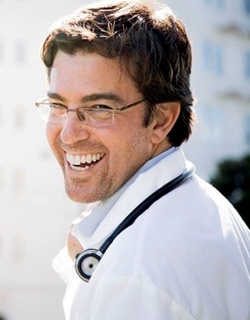 ---
Please contact a GDA agent for information.
---
Topics
Click on the topic name to see other speakers tagged with this topic.
---
Dr. Brad Nieder, MD, CSP
The Healthy Humorist
Select Testimonials
"Brad, you were such a HUGE hit! All of us in attendance thank you for your targeted presentation...Thank you too for your multiple, perfectly timed comments on Philips and the FlexCare toothbrush--you brought a warm and humorous tie to our company and key product, and I so appreciate the positive mentions. Your program was excellent!...I hope to recommend and work with you again in the future. Thank you for the deep belly laughs that lead to good health--I thought you and your presentation were PERFECT!!"
---
"Hats off to the Healthy Humorist® and his timely message about incorporating more laughter into our lives! From his opening line he had the audience of 2000 members laughing, and there was no lag time during his entire 60-minute presentation. His delivery and comic timing were impeccable. His material is clever, clean, and insightful. He's a Jerry Seinfeld of the medical profession with his hilarious observations. As one coder said to me later, 'Our jobs are so stressful. It felt good to sit there and laugh!' If it were up to me, Dr. Nieder would be my choice for a keynote every year. We can all stand to lighten up and enjoy ourselves a little more, and that message came through loud and clear in the presentation."
---
"It is my pleasure to whole-heartedly recommend Dr. Brad Nieder as a speaker. Dr. Brad provided the closing remarks for our annual Chapter Leaders Conference ... Typically the closing session is a difficult one to attract attendees--like many conferences, we tend to have high levels of attrition at the end of the event. Not so with Dr. Brad--his materials provided in advance were compelling and clever and ... created a buzz of anticipation among our attendees. We had a higher attendance rate for the closing session than we have seen in several years. His session delivered on the promise--Brad took the time to understand our audience and provided a program that was universally appealing while tailored to their interests. The evaluations were outstanding ... As a meeting planner, I also give Brad high marks as a professional. He was responsive, prompt and incredibly easy to work with. It is a rare combination of talent and professionalism that make Brad such a wonderful speaker."
---
"As I was sitting in the audience during your presentation one of my colleagues passed me a note that said, 'one of the best keynotes ever.' As meeting planners, we see a lot of keynote speakers, so that is high praise. Many people stopped me after the session ended to ask how they could hire you to speak to their organizations. It was fun to share some belly laughs, giggles, and even a few groans ... You are definitely on my short list and I will share your information...I hope our paths will cross again."
---