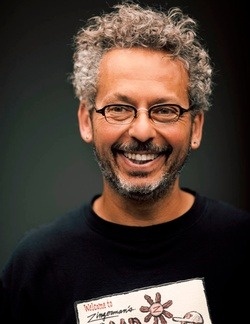 ---
Please contact a GDA agent for information.
---
Topics
Click on the topic name to see other speakers tagged with this topic.
---
Hear Ari's
Podcast Now
Ari Weinzweig
Featured
Ari Weinzweig: The Spirit of Generosity; Founder of Zingerman's Deli, Breads, and Products
Ari moved to Ann Arbor from his hometown of Chicago to attend the University of Michigan. After graduating with a degree in Russian history, he went to work washing dishes in a local restaurant and soon discovered that he loved the food business. Along with his partner Paul Saginaw, Ari started Zingerman's Delicatessen in 1982 with a $20,000 bank loan, a staff of two, a small selection of great-tasting specialty foods and a relatively short sandwich menu. Today, Zingerman's is an Ann Arbor institution—the source of great food and great experiences for over 500,000 visitors every year. Each day the Deli serves up thousands of made-to-order sandwiches with ingredients like corned beef and pastrami, homemade chopped liver and chicken salad. The Deli stocks an array of farmhouse cheeses, smoked fish, salamis, estate-bottled olive oils, vintage vinegars, whole bean coffees, loose leaf teas and much more. Ari and Paul have built Zingerman's into an organization with a 500+ staff and annual sales approaching $40,000,000 a year.
Ari is involved in many educational activities. He has served as a board member and president of The American Cheese Society and as a board member of the Retail Division of the National Association for the Specialty Food Trade. He is a frequent guest speaker in business classes at the University of Michigan and Eastern Michigan University, as well as at various food and business conferences in this country and abroad including the American Institute of Wine and Food, Oldways Preservation and Exchange Trust, the Gathering of Games, and the NASFT Fancy Food Show.
In 1988 Zingerman's was instrumental in the founding of Food Gatherers, a perishable food rescue program, and continues to be a major supporter of the organization. Every year Food Gatherers delivers over a million pounds of food to people in need. Ari has also served on the board of The Ark, the longest continuously-operating folk music venue in America. In April of 1995, Ari and Paul received the Jewish Federation of Washtenaw County's first Humanitarian Award for their community contributions. Ari was recognized as one of the "Who's Who of Food & Beverage in America" by the 2006 James Beard Foundation. In 2007, Ari and Paul were presented with the Lifetime Achievement Award from Bon Appetitmagazine for their work in the food industry.
Ari has written over 250 issues of the Zingerman's newsletter, and has contributed to such magazines as Fine Cooking, Specialty Foods, Gourmet Retailer, and Food and Wine. He has received praise for his books: Zingerman's Guide to Better Bacon, Zingerman's Guide to Good Olive Oil, Zingerman's Guide to Good Vinegar, Zingerman's Guide to Good Parmigiano Reggiano, Zingerman's Guide to Giving Great Service as well as his Zingerman's Guide to Good Leading series, which includes four volumes. His latest is Zingerman's Guide to Good Leading, Part 4: A Lapsed Anarchist's Approach to the Power of Beliefs in Business, which was released in the summer of 2016.

---