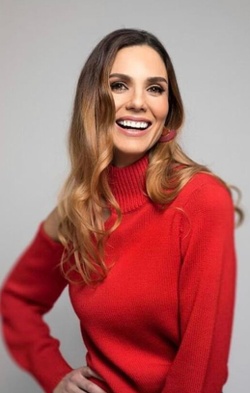 ---
Please contact a GDA agent for information.
---
Topics
Click on the topic name to see other speakers tagged with this topic.
---
Alison Canavan
Energy is the currency of the future. The most important currency to drive growth is the capitalization of your personal and community energy.
Alison Canavan is the change agent every company needs to help regulate the nervous system of both the individual and the company. Her work focuses on personal development and energy management. Alison's teachings and techniques about how to best spend, save and invest your energy leads to deeper connections to yourself and those around you, increased opportunity for purpose driven work, and outcomes that enrich all aspects of your life.
As a former supermodel who has overcome both mental health struggles and addictions, Alison inspires people to live fully and step into their power. Through her keynotes, workshops and consulting, she blends teachings and practices like mindfulness, meditation and breathwork with life changing mindset tools that encourage personal and professional growth and true transformation. Her tools and techniques can be put into practice immediately and used as you move through your day.
Towards the end of her modeling career she fully devoted her time to her greatest passion: true health and wellbeing for all.
Helping people to join the dots in their own lives and with their own health and wellbeing is Alison's primary goal and passion and she empowers people to do this through her fun, uplifting and interactive workshops and talks worldwide.
Her work revolves around the concept of inner transformation and cultivating a profound love for oneself and life. She specializes in guiding individuals through the journey of managing change, stress, burnout, and overwhelm. Her goal is to empower people to comprehend the remarkable power of coherence and teach them how to create from a place of peace and serenity, rather than chaos.
Alison Canavan is a UCLA trained Mindfulness Facilitator from The Semel Institute of Neuroscience and Human Behaviour, a Master NLP Practitioner, HeartMath facilitator and International motivational speaker.
Her heart led business and 360 approach to wellbeing is innovative, inclusive and accessible to all. As a meditation teacher she understands the power of a mindful approach to living and this led her to create a "Wellbeing in the Skies" series for Ireland's national airline Aer Lingus. This series looks at gratitude, meditation, anxiety, fear of flying, jetlag, a kids wellness corner and much more.
Her interest in nutrition began having seen the destructive nature and relationship people had to health, wellbeing and food during her time in the fashion industry, where she traveled the world for nearly 20 years as one of the world's top models. She began studying nutrition in 2009 and graduated with distinction in Nutrition and Health Coaching from the Irish Institute of Nutrition and Health (IINH) in 2015. She also holds an Advanced Diploma in Diet and Nutrition therapeutics and has a Raw Foods Mastery level 3 where she studied at The Life Change Health Institute.
She is an award winning author of Minding Mum – it's time to take care of you. The world's first 360 selfcare book for mums focusing on Mums health and wellbeing post birth.
Alison has become a highly sought after motivational speaker and contributor to the wellness space. She spoke at The Mindful Life Conference in Washington in April 2017 and has lectured in Trinity College in Ireland on the module of Motherhood and Mental Health. She delivers talks on coherence in the workplace to CEO's and business leaders across the world and in June 2014 she chaired and spoke at the first-ever Barnardos Parental Mental Health Conference in Ireland at Croke Park.
Alison continues to contribute to Podcasts, Newspapers, Magazines and TV and Radio shows around the world including The Sunday Independent, Mindful magazine, Spirit and Destiny, The Daily Mail, Ireland AM, The 6 O'Clock show, Pregnancy and Parenting magazine, Oh Baby, VIP Magazine, Positive Life, You Magazine, Voyage LA, The Cutting Edge. Podcasts like The Living Proof, Real Health with Karl Henry, The Good Glow, Chasing Passion, The Courageous Life, Lovin.ie, Mindful Mama Podcast, Sandra Rea's Fiercely Spiritual podcast, Alive and Kicking Newstalk, Motherly, IHeart radio to name but a few.
---