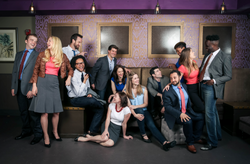 ---
Please contact a GDA agent for information.
---
Topics
Click on the topic name to see other speakers tagged with this topic.
---
The Water Coolers
Hilarious singing comedy about work delivered by ridiculously talented performers.
AWARD WINNING SINGING COMEDY ACT
For nearly 15 years, THE WATER COOLERS have entertained audiences around the world, as far reaching as Singapore and Australia, with their high energy, uncommonly funny, authentic take on work and life. Smart phones, conference calls, kids, coworkers, and travel are just a few of the topics this group of top NYC talent turns into hilarious sketch comedy and song. They are one of the few acts to win Event Solutions magazine's Spotlight Awards for Entertainment of the Year multiple times.
In addition to their top comedy act, they deliver a keynote presentation that explores the challenges to top performance through absolutely rocking comic songs and delivers practical takeaways drawn from their experiences competing in the country's most competitive live-entertainment market: New York City. Called "Getting To Great Performance," the session perfectly balanced hilarious comedy with honest perspective from professionals who live their lives in a world where performance is king.
HYSTERICALLY AUTHENTIC
The Water Coolers' writing team mixes professional comedy writers with people working in the "real world" to deliver an authentic and funny take on work. The team is headed up by one of the creators of New York's longest running comedy hit ever, "Tony n' Tina's Wedding" whose other comedy credits include numerous sketch appearances on The Conan O'Brien Show, voicing Peanut on the Cartoon Network's cult hit, "Harvey Birdman, Attorney At Law," also starring Stephen Colbert and Gary Cole, and originating the role of Joey in Fox TV sit com pilot "Tony n' Tina," directed by Christopher Guest.
SUPER HIGH END TALENT
The performing cast is made up of NYC pros with resumes that include top comedy clubs like Igby's, the Improv, the Comic Strip, and the Icehouse as well as Broadway's hippest adn hottest shows, including Gloria Estefan's "On Your Feet," Wicked," "Rock of Ages," "Jersey Boys," Carole King's "Beautiful," "Chicago," "Hair," "Pippin," In The Heights," and "The Boy From Oz," with Hugh Jackman.
---