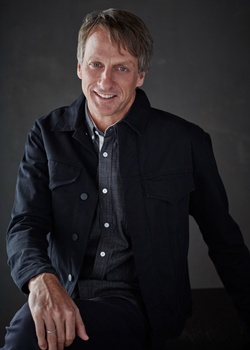 ---
Please contact a GDA agent for information.
---
Topics
Click on the topic name to see other speakers tagged with this topic.
---
Tony Hawk
Legendary Skateboarder; Entrepreneur; Founder of The Skatepark Project (formerly the Tony Hawk Foundation)
The most recognized action sports figure in the world, Tony Hawk was just nine-years old when his brother changed his life by giving him a blue fiberglass Bahne skateboard. By 14 he'd turned pro, and by 16 he was widely considered the best skateboarder on earth. He was world champion 12 years in a row and is a 16-time X Games medalist.
In 1999, he became the first skater to ever complete a 900, the holy grail of vert skating. Shortly thereafter, he teamed up with Activision to launch Tony Hawk's Pro Skater, now a billion dollar video game franchise. He has created a Tony Hawk brand that includes Birdhouse Skateboards, Hawk Clothing, and the Tony Hawk Signature Series sporting goods and toys. His speaking engagements draw huge crowds, inspiring everyone from media savvy millennials to corporate veterans. Tony served as a correspondent at the 2020 Tokyo Olympic Games for NBC when skateboarding became an Olympic sport for the first time.
An intuitive marketer with social networking, Tony's fan base numbers in the millions on Facebook, Twitter, TikTok and Instagram. And he recently launched a new podcast co-hosted by Jason Ellis called Hawk vs. Wolf. Tony authored a New York Times bestseller, the bio HAWK—Occupation: Skateboarder, and his book How Did I Get Here? The Ascent of an Unlikely CEO, covers the business side of his career. And in 2022, a biographical documentary film titled "Tony Hawk: Until the Wheels Fall Off" by award-winning director Sam Jones debuted on HBO, giving an in-depth look at Tony's legendary career and personal life. Tony also oversees his own film, television and commercial production company, 900 Films.
In 2002, Tony founded The Skatepark Project (formerly the Tony Hawk Foundation), whichhas given away over $10 million to help fund over 650 public skatepark projects throughout the United States that serve over six million visitors a year.
---