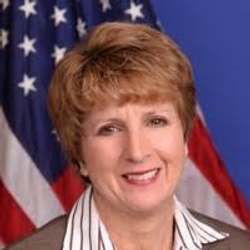 ---
Please contact a GDA agent for information.
---
Topics
Click on the topic name to see other speakers tagged with this topic.
---
Stacy Arruda
CEO, ARRUDA Group
Select Testimonials
I have come to know Stacy through her presentations to several security/technical and business audiences. The attendees at these events are well versed and well qualified in the cybersecurity sector. So, in order to get and keep their attention you would need to project 2 key attributes: authority" and "empathy". Stacy gets 5 stars for exhibiting each of these attributes. Her experience in the cybercrime sector of the FBI gives her a unique view relevant in today's market as companies are struggling with the onslaught of fighting cybercrime. Knowing the global elements, threats, tactics and actors who pose a threat to today's businesses give her the authority. Couple that with her passion to share her expertise on threat manifestation, how companies (people) are targeted and what can be done to combat these threats speaks to her empathy and wanting to help. Stacy and I share a similar background and having transitioned from that background to the business world is no easy task. Being able to articulate a relevant message (while adding some cool war stories) and getting the audience's attention is a strong point for Stacy. She certainly got my attention!! A class act.
---
Stacy worked for me in the FBI and I utilized her subject matter expertise many times to make speeches, presentations, and to represent me at events both domestically and internationally. She is a fantastic presenter; engaging and passionate about her subject matter. In Cyber, you often find speakers discussing things they read or heard about. Stacy speaks from experience. As an agent specializing in Counterintelligence and Cyber, she was directly involved in many of the cases others can only reference through secondhand knowledge.   I recommend Stacy without reservation or hesitation. From CEOs to government executives, Stacy has an amazing ability to hone her message and relate to any audience.
---
A Cyber Security and Identity Theft Expert Stacy Arruda is an outstanding speaker whose career as an FBI Special Agent fueled her passion for helping people and organizations in times of crisis. Her presentations are on timely topics and are communicated through the use of compelling real-life stories and lessons learned. She has presented information in a professional and entertaining way to convention groups, associations, corporate boards, and employees of major corporations. If you want a presentation that keeps participants coming back for more, Stacy is the perfect choice.
---
"We felt very lucky to have Stacy as our guest speaker on stage for our 2019 annual conference, Member Forum, in Austin, TX. The material Stacy presented, based on her extensive career with the FBI, truly resonated with our audience of Chief Information/Risk Officers, senior payments technology leaders and fraud/risk prevention leaders, many of whom are looking for expert advice on protecting their Credit Union and their members. In her very lively, energizing session, Stacy gave them clear tips - and most importantly, actionable suggestions - on best practices and how to stay protected in this ever changing industry from cyber and fraud threats. The feedback from the audience was so positive, that we've had her present during our advisory groups as well." –
---