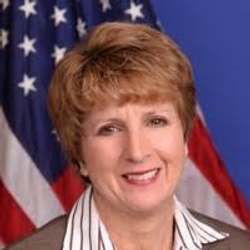 ---
Please contact a GDA agent for information.
---
Topics
Click on the topic name to see other speakers tagged with this topic.
---
Stacy Arruda
CEO, ARRUDA Group
Ms. Arruda is the CEO and Founder of the ARRUDA Group. ARRUDA Group specializes in Cyber Security Awareness Training, Risk Mitigation, and Corporate Investigations. As a retired Special Agent with the Federal Bureau of Investigation (FBI) and Adjunct Faculty member, Ms. Arruda has 22 years investigative experience in national security and criminal matters and delivered hundreds of hours of training, both domestically and internationally. She attributes her training success to her dynamic training style, which is fast, energetic, and full of best practice examples. Her captivating blend of multi-media including video, pictures, and examples from real world FBI investigations have proven to be a winning formula for audiences across the globe.
Ms. Arruda retired from the FBI in 2018. During her 22 career, she held a wide range of operational and leadership roles in the Field and at FBI Headquarters. She is credited with drafting the FBI's response to electronic attack in the International arena, as well as boosting the FBI's computer crime and cybersecurity investigative capabilities. She directed numerous computer intrusion investigations spanning the globe, including denial-of-service attacks, bank and corporate breaches, fraud, and state sponsored intrusions. Ms. Arruda has over 20 years of experience in Cyber and Counterintelligence matters.
Ms. Arruda has designed and delivered customized Social Media Vulnerability Assessments and Cyber Security Awareness training to a dozen local governments.
---