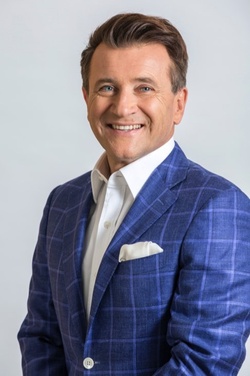 ---
Please contact a GDA agent for information.
---
Topics
Click on the topic name to see other speakers tagged with this topic.
---
Robert Herjavec
Featured
Leading Shark on ABC's Shark Tank and Founder & CEO Herjavec Group
Robert Herjavec is a dynamic entrepreneur and leading Shark on ABC's Shark Tank. Born in Eastern Europe, he arrived in North America on a boat with his parents after escaping communism in the former Yugoslavia. From delivering newspapers, and waiting tables, to launching a computer company from his basement, his drive to achieve has led him to the fulfillment of a better life for himself and his family. In 2003, Robert founded Herjavec Group, and it quickly became one of North America's fastest growing technology companies. Robert's motivational business advice has received millions of impressions through TV, print, radio and digital media. He shares his expertise with other entrepreneurs each week as a leading Shark on ABC's Emmy Award-winning hit show Shark Tank.
You Don't Have to Be a Shark is filled with personal anecdotes and life lessons you might have learned in business school (or at least you think you might have). By drawing from his own life experiences, Robert teaches readers how to use pure sales techniques to be more successful in every aspect of their lives. Robert's philosophy is simple: great salespeople are made, not born, and no one achieves success in life without knowing how to sell. You Don't Have to Be a Shark will teach you all that and more.
In Robert's second book, whether you are seeking to build the next big company in communications technology, to become the most respected teacher in your educational system, or to make a lasting impact as an artist in your field, the most important decision you can make, according to Robert, is to reject mediocrity. In the long run, "good enough" is never good enough, whether in our personal lives or in our careers. Drawing on anecdotes from his own life, Robert delivers valuable life lessons that promise to guide readers to greatness.
Robert participated in a discourse on Ferrari California T - The Art of Innovation, supporting the launch of the new California T when it launched. Robert spoke about how business leaders should strive to have the level of craftsmanship, artistry, creativity and execution that Ferrari has in the automotive space. You can't be caught standing still – keep moving, keep looking for the next opportunity, keep innovating.
---