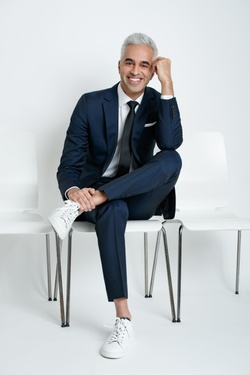 ---
Please contact a GDA agent for information.
---
Topics
Click on the topic name to see other speakers tagged with this topic.
---
Riaz Meghji
Human Connection Expert | Author of 'Every Conversation Counts'
Select Testimonials
"Practical. Meaningful. Moving. Riaz's thought-provoking keynote at our Power of Connection conference was one of our highest rated sessions. He brought to life the realities of loneliness and the power we each have to create authentic human connection, especially in the exhausting and distracted world we live in. His vulnerability motivated our leaders to explore how we can cultivate collaborative relationships and build a more connected culture. I really appreciated Riaz's care in crafting the session based around the needs of our people and his skill in embedding insights about our specific team/business. He made our team feel heard & seen and it was exactly what our people needed as we close out a busy year and look forward to forging deeper connections in the new year."
---
"Riaz provided dedicated and customized coaching to our hosts. He played to each of their strengths and provided these leaders with a simple framework to be able to fulfill their role of hosts in a way that was authentic to them. The result was tremendous. All our hosts were able to effectively tell their stories and connect to the audience in a way that was impactful. They delivered as hosts seamlessly – with a real confidence while showcasing a level of vulnerability that truly resonated with the audience. Thank you again Riaz for partnering with us."
---
"Riaz was phenomenal. I told him I thought he was as strong or stronger than Simon Sinek. Obviously two different messages but, similarly, he was one of those keynotes our community will continue to talk about for years to come. He clearly did his research and worked hard to prepare by having multiple conversations with us and our members; that really showed. Plus his comments were applicable to their world, both business and personal, and left everyone energized. He had a line of folks wanting to talk with him after the general session and the same was true at the reception that followed. He's the only keynote we've ever had who attended the Newcomer's Orientation prior to the opening general session and stayed for the entire reception that followed. He must have been exhausted but he didn't show it."
---
"Riaz was a superb choice as keynote speaker for our hotel leadership conference! His message about authentic connection was timely and meaningful, and our attendees raved about his session. The hospitality business, and really every business, is about people! Riaz's tips for transcending small talk to get to extraordinary relationships were inspiring and practical for our attendees, both at work and in their personal lives. Riaz customized the message for our audience, even using specific hotel examples to make his points. He was invested in the mindset of the attendees, and he took time before and during the conference to connect with the producers and attendees alike. Highly recommend!"
---
"Riaz kicked off three days of keynote speakers in the most perfect way. From his presentation to his continuous engagement with our Brooks Team, Riaz is a force for positivity in this world, and there is no doubt in my mind that he has made a lasting impact on all of us that had the opportunity to hear him speak."
---
"Riaz reminds us all that empathy is a core business skill and that every conversation we have with peers, team members and customers can change outcomes and positively impact our relationships and business. Not only did Riaz inspire our participants with ideas, but he also empowered them to change their approach to interactions with others. He is easy to work with, well-prepared and customized his content to meet the challenges of our unique participants and their challenges in the current marketplace."
---
"Riaz's presentation was fantastic. He shared effective habits that motivated us to achieve the goals of being intentional about human connection at work and building meaningful relationships. Riaz took the time to adapt his presentation to our organizational context, interviewing firm leaders before the presentation and incorporating their perspectives in his talk. The audience was inspired, engaged and moved by his passionate delivery. Highly recommend."
---
"Many of us are still on a high - your presentation was truly refreshing, inspiring, and motivating! It was above and beyond what we had hoped for. Thank you for being such an authentic and engaging speaker and storyteller, and providing important guidance on human connection that we, as an organization, can all reflect on. You have helped set a positive and hopeful tone as we say goodbye to a difficult, but successful, two years and welcome the first year of our new, four-year strategic plan."
---
"Riaz Meghji was one of the most captivating keynote speakers at the ASAE Executive Leadership Conference in Vancouver. Associations are in the people and relationship businesses. Riaz's thought provoking insights on human connectivity, engagement, and the importance of being a trusted source, reinforced the value of associations and why the industry is critical now more than ever before. The collective impact of bringing people together to accomplish great things can have widespread global influence."
---
"You are truly one in a trillion and I am so glad I got to meet you and partner with you on this session. In my 15 years at GSK, never has there been a speaker that has had such a profound impact on not only me, but everyone in the company. I was getting pings on Teams during the keynote, and I am sure you could see the comments coming in: "MORE RIAZ!" Thank you for your time, engagement, preparation, listening, collaboration and connection leading up to our event."
---
"Riaz Meghji's talk, Every Conversation Counts, was the most inspiring and impactful session at our recent virtual leadership conference — practical, meaningful, and motivating. Riaz has packaged a powerful message for leaders to put to work in everyday conversations. Thank you Riaz!"
---