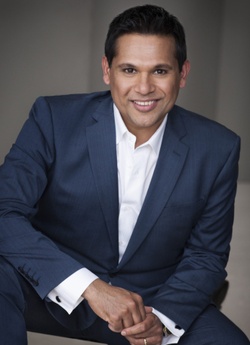 ---
Please contact a GDA agent for information.
---
Topics
Click on the topic name to see other speakers tagged with this topic.
---
Partha Nandi, M.D., F.A.C.P.
TV Show Host, Bestselling Author, Practicing Physician
Partha Nandi M.D., F.A.C.P is the creator and host of the nationally and internationally syndicated medical lifestyle television show, Ask Dr. Nandi, reaching 110 million homes daily. He is the bestselling author of Ask Dr. Nandi: 5 Steps to Becoming Your Own Health Hero for Longevity, Well- ‐‐Being, and a Joyful Life, and a practicing gastroenterologist. Dr. Nandi's work on building and elevating organizational health has been recognized and embraced by corporate leaders around the world.
Dr. Nandi is the Chief Health Editor at WXYZ ABC Detroit, a practicing physician and a renowned international speaker, his appearances include TedX, college commencements, numerous charity functions and premier medical meetings such as Digestive Disease Week. Dr. Nandi has partnered with the Ministry of Health in Jamaica and India, and collaborated with The World Health Organization. Dr. Nandi delivers passionate and inspiring talks to diverse audiences. He continues to travel to international conferences and symposia, meeting with global health leaders on his quest to improve health care quality, access, and advocacy; to empower the world in his mission, "To Be Your Own Health Hero."
Born in Calcutta India, Dr. Nandi immigrated to the United States as a child. At the age of 16, he completed his high school education in Columbus, Ohio where he was awarded a full academic scholarship to The Ohio State University and University of Notre Dame.
To remain closer to his family, he chose Ohio State. Dr. Nandi graduated summa cum laude (Top 1% of the class), a member of Phi Beta Kappa honor society, with a bachelor's degree in chemistry and a minor in classical Greek civilization. Dr. Nandi also served as the Rhodes Scholar representative from Ohio State and was voted the Homecoming King, amongst 55,000 students enrolled at the time.
Dr. Nandi then traveled to Detroit, Michigan to obtain his medical degree at Wayne State University. At Wayne State, he was a member of Alpha Omega Alpha honor society and graduated in the top 10% of the class. He also completed his internal medicine training at Wayne State University, where he was the intern of the year. He completed his gastroenterology fellowship at the University of Michigan in Ann Arbor, Michigan.
Dr. Nandi practices gastroenterology in the suburbs of Detroit, Michigan. He is the author of several publications in peer-reviewed journals. He is a national speaker, educating physicians on various topics within medicine. He is a patient advocate, emphasizing empathy in patient care and treatment of the entire patient, both body, and mind.
---