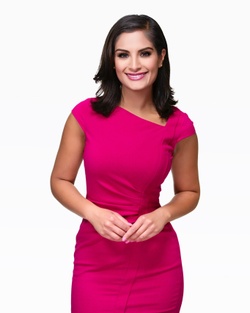 ---
Please contact a GDA agent for information.
---
Topics
Click on the topic name to see other speakers tagged with this topic.
---
Natasha Verma
News Anchor, Cancer Survivor & Founder of the Verma Foundation
Natasha Verma is a weekday morning anchor on Denver's #1 morning show, 9NEWS.
She's a cancer survivor and founder of the Verma Foundation, a 501(c)(3) non-profit
organization committed to giving cap wigs to cancer patients — completely free of cost.
At 23 years old, Natasha was diagnosed with stage 2 Hodgkin's lymphoma while
working as an anchor at NBC10 Boston. After advocating for her health when she was
misdiagnosed twice, doctors found tumors on both sides of her body and a mass
growing in her chest. Natasha pushed through the difficulties of chemotherapy and hair
loss to create a viable solution for women and children with cancer.
Now in remission, Natasha pays it forward through the Verma Foundation. Since
launching, her team has given hundreds of cap wigs to patients around the world. Her
personal survival story has had a profound impact on cancer patients and the
healthcare industry. It's motivated many to take charge of their life, turn their low points
into moments of inspiration.
Natasha grew up in South Texas. She was the University of Texas' youngest-ever
graduate. At 17, she earned two undergraduate degrees - in broadcast journalism and
biology/pre-med. Natasha went on to graduate from Columbia University with a master's
degree in journalism at age 18.
Natasha has a big heart and two really big dogs — an English Mastiff named Diesel and
a Bernese Mountain Dog named Duchess.
---