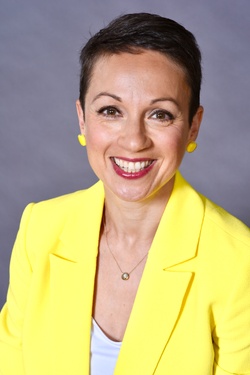 ---
Please contact a GDA agent for information.
---
Topics
Click on the topic name to see other speakers tagged with this topic.
---
Nataly Kogan
Featured
Happiness Expert, Venture Capitalist & Successful Tech Entrepreneur; Author of Happier Now
Nataly Kogan is one of the leading global experts in optimizing your emotional fitness and elevating your leadership.
She's the creator of the Happier Method™, founder and CEO of Happier and Happier @ Work™, and author of HAPPIER NOW and GRATITUDE DAILY.
Nataly is a highly sought-after international keynote speaker and has been featured in hundreds of media outlets, including The Washington Post, The New York Times, and The Dr. Oz Show.
By the age of 37, Nataly held top positions at McKinsey and Microsoft, was a Managing Director at a venture capital fund, and started or was a member of the senior team at 5 startups and tech companies.
But all of this overachievement came at a huge cost of stress and overwhelm, which was the catalyst for Nataly to give it all up to start her company, Happier, with this mission:
To help millions of people thrive in work and life by improving their emotional fitness with science-backed skills and practices.
Today, tens of thousands of people cultivate their emotional fitness and Elevated Leadership skills through Happier @ Work and virtual leadership programs, online courses, and other learning tools.
Nataly came to the US as a refugee with her family when she was 13 years old, and one of her greatest accomplishments was learning how to speak English by watching Alyssa Milano on the classic 80s sitcom, Who's The Boss?
Nataly lives outside of Boston with her husband and daughter, and when she isn't speaking or teaching, can be found painting colorful abstract art and cooking up a storm in her kitchen.
---