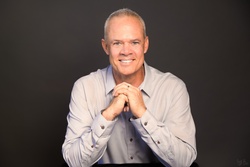 Monica Hahn
---
Please contact a GDA agent for information.
---
Topics
Click on the topic name to see other speakers tagged with this topic.
---
Marc Koehler
Former Navy Nuclear Submarine Officer, Elite Leadership Expert, Best-Selling Leadership Author, 35+ Years Leading in Disruptive Environments
Select Testimonials
"Marc ALWAYS delivers – his wisdom runs the gamut from small, valuable gems of advice and inspiring quotes (always related to the context of what he is saying), to promoting large compelling ideas challenging every individual in the room. He puts it all out there in a way that leaves you wanting more."
---
"For years, we booked "expert leadership" speakers at our Annual Conference, but we saw little progress strengthening the company. Just 6 weeks after Marc's keynote, our team implemented the simple and practical leadership principles. We are seeing real results, but most importantly I now truly know what it feels like to be a CEO."
---
"Throughout his keynote, he masterfully wove together storytelling, humor, and profound insights, making the entire session both engaging and thought-provoking. It was refreshing to witness someone who could deliver complex ideas in such a clear and relatable manner, leaving none of us behind."
---
"Stunning audience feedback and huge impact on the lives of our members. Your powerful keynote was the highest rated one in our conference's 45 year history. Great job and Thanks!!"
---
"We have engaged Marc multiple times to speak. Each time we find ourselves intrigued and motivated by his ability to share his life experiences and current business events in a manner that draws the audience into the subject matter. Our audience has grown and benefited greatly and we will keep booking him!!"
---
"Marc's keynote and what he does is AMAZING. He showed us this great way to get everyone on board, get things accomplished and it makes you feel good. Sometimes it's just a matter of knowing how to start. He has helped us so much."
---
"From the moment Marc started speaking, his energy and passion were palpable, captivating the entire audience. His ability to connect with us all on a personal level was truly remarkable, and it was evident that he genuinely cared about the impact he could make on each individual in the room."
---
"Marc's unique knack for engaging with and relating to people was on full display with his thought provoking, encouraging keynote. His keen curiosity to learn our unique business challenges upfront and weaving solutions throughout made it a positive, impactful experience for all."
---