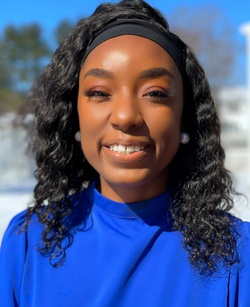 ---
Please contact a GDA agent for information.
---
Topics
Click on the topic name to see other speakers tagged with this topic.
---
Photos
Click on the image to view a high res version.
Lovern J. Gordon
President of Love Life Now Foundation and Author of The Legacy He Left Me
Lovern J. Gordon is the author of The Legacy He Left Me and Founder and President of Love Life Now Foundation, Inc. (LLN) which promotes year-round awareness against domestic violence (DV) and helps to bridge the gap between shelters and the communities they serve. The 2010 winner of two back to back beauty pageants, Lovern started out by using the 2 titles as a platform to increase awareness on the issue. The following year LLN was formed.
Since then, she has spanned awareness in multiple cities by hosting events year round...events that have in turn raised thousands of dollars that have benefited shelters in various cities of Massachusetts, who do the real work of aiding victims and survivors daily. LLN also founded Love Life Magazine, an online publication that is centered on shining the spotlight on the issue. She also shares her personal story with abuse (as a 15-year child witness and adult survivor of abuse after a 2-year abusive relationship) to anyone that will listen.
Believing the more we all talk about this issue publicly, the better a victim's chance is of seeking help, she conducts educational DV Workshops at high schools, college campuses, and job sites. Her reach continues to span after she has delivered many Keynotes on the issue, appeared on numerous television shows such as: CBS This Morning, Huffington Post Live, Security Brief TV, NBC's This is New England, WHDH's Urban Update, CBS' Latino-based program – Centro, ABC's Cityline, as well as radio for Sirius XM's Jenny Hutt Live, WBZ News and WBUR's 90.9FM.
The Boston Celtics team named her one of their Heroes Among Us recipients for her advocacy during the Coronavirus pandemic and Instagram for Business featured her story as part of their Women's HER-story Month 'toget-HER' mini-documentary series.
---