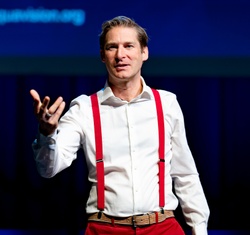 ---
Please contact a GDA agent for information.
---
Topics
Click on the topic name to see other speakers tagged with this topic.
---
Photos
Click on the image to view a high res version.
Ken Hughes
World's Leading Shopper & Consumer Behaviouralist, Customer Experience Strategist
Select Testimonials
"Ken's true talent is the tailoring of his content to our audiences. We have invited him to speak at several different Red Bull events, and his content is always uniquely tailored to that audience and event theme and 'on the money' with our hot topics. He challenges each of us to think outside of the box, and is both an educational and inspirational presenter. His keynotes not only posed some tough questions about the future shape of our industry but he also linked this to the emerging consumer forces evident today. He is as entertaining, and engaging as he is challenging and not to be missed"
---
"Ken delivered a thought provoking and entertaining speech on the needs and desires of younger generations. The talk was highly appreciated by all our coaches and the post-event feedback we received has been outstanding."
---
"Mr Hughes' presentation at our ECAMS Aesthetic Medicine Congress was simply out-standing. His insight of consumer behaviour and application to the healthcare industry was astounding and left the delegates eager to address such issues in their businesses. A fast paced and really entertaining keynote speech that no conference organiser should do without"
---
Ken is an energetic, thought-provoking speaker. I've had Ken speak at two Google events now and Ken has scored higher than any other speaker I've ever had before, lasting a longtime in the memories of the delegates
---
"As always, Ken delighted our delegates with his vision of the future in Boston. His energy and insight around consumer behavior, technology trends and how these intersect and will change society, consumer behavior and our industry were out-standing. This is one speech every business and brand should hear."
---
"It was a pleasure working with Ken on our conference. He brought the highest level of professionalism and fun! Feedback from the delegates on his element was extremely positive, simply brilliant. He really does have a unique skill, inspiring and engaging."
---
"We have had a number of other presentations on this topic previously but none approached the subject as Ken did. The way in which he brought the millennial consumer to life for the leaders of our business in this keynote speech was as challenging and informative as it was entertaining. This is a must-see speech for anyone in financial services, a real eye-opener"
---
"Ken's presentation made delegates laugh and cry and laugh again. His easy story-telling style meant that delegates were not only engaged throughout but also left with some real thought-provoking content. We are already planning on inviting him back!"
---
"Ken was perfect for our 'Power of Positive CX' congress, really opening the attendee's minds to the possibilities. His style is so engaging that the audience were left buzzing and it really set up the rest of the day for us. If you are looking for a keynote that delivers on CX, this is it."
---
As a B2B brand we needed to stay relevant and connected with our customers during this time. Ken was the first person we thought about approaching and the webinar series he delivered has had such strong feedback. Sessions sold out way beyond our expectations and delegates stayed engaged far longer than we had ever hoped. It was entertaining, informative, and had all the usual magic and sparkle that Ken delivers onstage
---
"Ken's speech at both our US and European CX events really excited delegates for the need to better engage with the new consumer and get personal and experiential. As a speech it was relevant, insightful as well as great fun. An ideal mix."
---
I could listen to this guy all day. As always an amazing insight into customers and the essence of CX relationships
---
"On behalf of the FNLI we would like to thank you for a superb presentation that provided outstanding food for thought for many. Your insights into the digital shopper gave us all a peek into the dynamics that will shape the future. Our guests were thrilled by your presentation with rave reviews all around"
---
"We have invited Ken to be part of the Forge Rock Identity Summits all over the world, as we are yet to meet another speaker that has his stage presence, thought provoking content, understanding of our own business and industry, all mixed with that natural story-telling style and wit. He delivers every time."
---