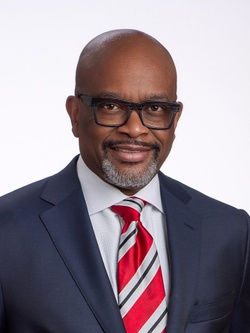 ---
Please contact a GDA agent for information.
---
Topics
Click on the topic name to see other speakers tagged with this topic.
---
Keith Wyche
Practicing C-Suite Executive; Author; Change and Transformation Thought Leader
Select Testimonials
Participants appreciated hearing from an executive outside the firm that demonstrated awareness of how change has impacted organizations in different industries. Participants felt that Keith was 'dynamic' and appreciated his 'straight talk' in terms of how leaders should manage those that don't adapt well to change.
---
Keith absolutely met and in some instances exceeded our expectations. The feedback was overwhelmingly positive for both the keynote event and the follow-up workshop. Our employees appreciated his candor, personal story, and the practical tools and tips he was able to share.
---
Keith's presentation at our Black Employee Network's "Position Yourself for Success" Seminar was outstanding! We received numerous notes and emails on the effective delivery of Keith's content material in which he focused on the importance of mentoring and being mentored... I am confident that as a direct result of his presentation, the number of volunteer mentors in our "Mentor Me" program has nearly doubled!
---
Thank you again for your invaluable insight, engagement with all of our people, and your passion for others' success. There were a lot of takeaways that we will carry forward to continue our mission of equal representations in all levels of our business.
---
This is one of the best workshops I have attended. [Keith] kept it real, gave us food for thought and made me understand how to get ahead. Brilliant session!!!!!
---
Thank you for a fantastic presentation yesterday! I wanted to share a few quotes and phrases from attendees I spoke with after the event: "Impactful" "Life-Changing" "Tremendous" "Eye-opening" "Keith was so relatable and inspiring." "I'm going home to do my own personal PEP evaluation!"
---
Once again, thank you for the excellent presentation on 'Good Is Not Enough' … Many in attendance spoke highly of the presentation. Please let me know when your next book becomes available: you've already sold the first copy!
---
Keith Wyche's training on change and transition was excellent. He was well prepared and knowledgeable of the issues in our industry, establishing immediate credibility with our team. Keith is an effective communicator that incorporates his knowledge, experience and insight into his presentation and discussion. He is transparent about his successes and failures in business, helping people connect with him as a person and business leader. Keith laid the ground work for our team to think and work toward change with a new perspective and great confidence.
---
If it were not for the counsel and coaching of Keith Wyche... I would not have excelled to the level of excellence and realized the success and personal achievement I currently enjoy. He challenged me to "be fearless… roll up your sleeves and show them what you are made of." These words alone have taken me so far and I am truly indebted to Keith and very thankful to him for his words of wisdom.
---