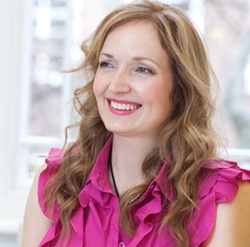 ---
Please contact a GDA agent for information.
---
Topics
Click on the topic name to see other speakers tagged with this topic.
Kate Ancketill
Inspirational Retail & Hospitality Trends Speaker, 'How the Future Consumer will Buy'
Kate Ancketill is CEO and founder of GDR Creative Intelligence, a London based global consultancy focused on strategic inspiration for retail and hospitality. GDR is currently retained by an impressive roster of major global brands, including: Coke, P&G, InterContinental Hotels, Hilton, LVMH, McDonald's, Tesco, Pernod, Capital One, Macy's, Estee Lauder and VF Corp.
In eye-opening, informative and inspirational multi-media presentations, Kate shares insights on the technological, human, digital and physical innovations that will change the face of retail and hospitality over the next two to five years. She uses carefully curated case studies to illustrate how new technologies and consumer behaviours will impact physical and digital commerce; case studies discovered by GDR's expert research team, or drawn from her global network - honed over 20 years - of leading engineers, programmers, designers, architects, marketers, scientists, academics and other specialist practitioners.
"Meaningful innovation often starts with inspiration from unexpected places," says Ancketill. "I love to show how taking a concept from one sector, tweaking it and applying it to another can lead to world-beating bottom line success."
Kate's presentations artfully combine the inspirational with the practical. Her audiences take away concrete action points for future-proofing their business, a broad perspective on priorities for investment and a mind fizzing with cutting-edge, stimulating and challenging concepts and possibilities.
---