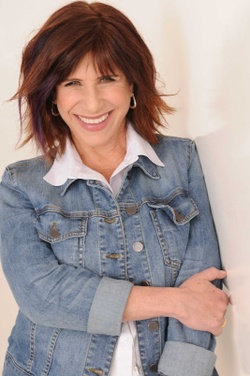 ---
Please contact a GDA agent for information.
---
Topics
Click on the topic name to see other speakers tagged with this topic.
---
Judy Carter
Bestselling Author, Comedienne, Motivational Humorist
Judy Carter is one of America's top motivational humorists, Judy wields the "power of the punch line," getting results both nationally and internationally with hilarious and empowering keynotes for government groups, professional associations, and Fortune 500 companies. Judy has shared stages with President Bill Clinton, Deepak Chopra, Lance Armstrong and Lily Tomlin, and has taken her "don't get mad, get funny" philosophy to hundreds of Fortune 500 companies such as Boeing, FedEx, Roche, Blue Cross, and Pacific Bell—which found her "tell-it-like-it-is" (only funnier) approach advantageous when tackling sensitive issues like downsizing, layoffs, and dealing with diversity. Judy has also been hired by the U.S. government to speak and conduct workshops for the IRS, FICA, the United States Congress, and even the Army, Navy, and Air Force. As an international speaker, Judy Carter has taken her fun and profound address to Australia, Canada, Germany, Hong Kong, and beyond.
Judy's Standup Comedy: The Book, which launched on The Oprah Winfrey Show, went on to sell over 80,000 copies and after twenty years is still ranked in the top twenty of Amazon's comedy books. Her book, The Comedy Bible sold over 50,000 copies and is considered the definitive guide to making a career out of making people laugh; it was reviewed by The Washington Post as a "top ten all time comedy essential." Judy's book tour and signings took her to more than 25 different American cities and led to appearances on over 100 television shows and networks, including The Oprah Winfrey Show, Good Morning America, CNN, ABC World News, BBC, CNNfn, Larry King Live, and on reality shows such as 10 Years Younger, Faking It, and Life Moments. She is also the winner of a Lambda Literary Award for Best Humor Book and a regular contributor to NPR's All Things Considered with episodes that focus on speaking makeovers for the humor-challenged.
A graduate of USC's theater program, Judy honed her comedy skills on stages from Caesar's Palace to the Los Angeles Improv to become Atlantic City's "Entertainer of the Year." In addition to her comedic skills, Carter is a professional magician, and was the first women to perform at the prestigious close-up gallery at the Magic Castle in Hollywood. She wrote and starred in a musical, "The Goddess of Mystery" which was produced in Los Angeles and optioned by Warner Brothers television. Carter's personal appearances include working as a regular at Caesar's Palace (in Atlantic City), opening for both Prince and Kenny Loggins, and headlining at over 100 comedy clubs across the country. She's been on over 100 TV shows, as well as several television pilots and series for ABC, Warner Brothers, and Paramount Television. In 1984, Judy Carter formed Comedy Workshop Productions, which has trained some of America's top comics; her former students include Sherri Shepard and Seth Rogen.
For 13 years, Carter produced the California Comedy Conference in Palm Springs where standup comics from all over the world gathered to take workshops with industry professionals that included agents, casting directors, and managers.
---