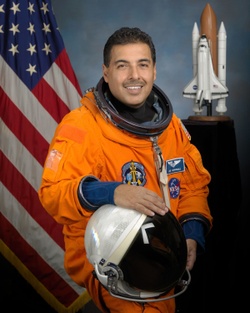 ---
Please contact a GDA agent for information.
---
Topics
Click on the topic name to see other speakers tagged with this topic.
---
Hear Jose's
Podcast Now
Jose Hernandez
Retired Astronaut & Business Man
Jose Hernandez was born in French Camp, California. His parents Salvador and Julia were Mexican immigrants who worked as migrant workers.
Each March, Hernandez, the youngest of four children, journeyed with his family from Michoacan, Mexico to Southern California. Picking crops as they traveled, the family would then proceed north to Stockton, California. When Christmas approached, the family would head back to Mexico and in spring return to the States again.
Despite being born in California, the Mexican-American Hernandez did not learn English until he was 12 years old. He remarked in a NASA interview, "Some kids might think it would be fun to travel like that, but we had to work. It wasn't a vacation."
In school Hernandez enjoyed math and science. He decided to be an astronaut after watching the Apollo spacewalks on television. Hernandez was also drawn to the profession in 1980, when he found out that NASA had picked Costa Rican native Franklin Chang-Diaz, one of the first Hispanics to journey into space, as an astronaut.
Hernandez said in a NASA interview that he, then a high school senior, still remembers the moment he heard the news.
"I was hoeing a row of sugar beets in a field near Stockton, California, and I heard on my transistor radio that Franklin Chang-Diaz had been selected for the Astronaut Corps. I was already interested in science and engineering, but that was the moment I said, 'I want to fly in space.'"
So after he finished high school, Hernandez studied electrical engineering at the University of the Pacific in Stockton. From there, he pursued graduate studies in engineering at the University of California, Santa Barbara. Although his parents were migrant workers, Hernandez said they prioritized his education by making sure that he completed his homework and studied consistently.
Once he completed his studies, Hernandez landed a job with Lawrence Livermore National Laboratory in 1987. There he engaged in work with a commercial partner that resulted in the creation of the first full-field digital mammography imaging system, used to spot breast cancer in its first stages.
Hernandez followed his groundbreaking work at Lawrence Laboratory by closing in on his dream of becoming an astronaut. In 2001, he signed on as a NASA materials research engineer at Houston's Johnson Space Center, helping with Space Shuttle and International Space Station missions.
He went on to serve as the Materials and Processes Branch chief in 2002, a role he filled until NASA selected him for its space program in 2004. After applying for a dozen consecutive years to enter the program, Hernandez was at long last headed to space.
After undergoing physiological, flight, and water and wilderness survival training as well as training on Shuttle and International Space Station systems, Hernandez completed Astronaut Candidate Training in February 2006. Three-and-a-half years later, Hernandez journeyed on the STS-128 shuttle mission where he oversaw the transfer of more than 18,000 pounds of equipment between the shuttle and International Space Station and helped with robotics operations, according to NASA. The STS-128 mission traveled more than 5.7 million miles in just under two weeks.
After a 10-year run at NASA, Hernandez left the government agency in January 2011 to serve as executive director for Strategic Operations at aerospace company MEI Technologies Inc. in Houston.
---