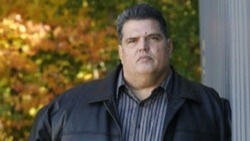 ---
Please contact a GDA agent for information.
---
Topics
Click on the topic name to see other speakers tagged with this topic.
---
Hear Jack's
Podcast Now
Jack Garcia
Featured
New York Times bestselling author of "Making Jack  Falcone" and Undercover FBI Agent
Joaquin "Jack" Garcia is considered by his peers and leading FBI experts to be the most successful Undercover Agent in the history of the FBI.
In his 26 years of service with the FBI and as an Undercover FBI Agent in over 100 major Undercover operations, Jack Garcia is best known for his Undercover role as "Jack Falcone," a self-described Sicilian jewel thief and drug dealer from Miami, Florida, who infiltrated the Gambino crime family of La Cosa Nostra in New York for nearly three years. The case resulted in the arrest and conviction of 39 mobsters, including the top members of the Post John Gotti Gambino crime family. Agent Garcia, played his Undercover role so convincingly that he was even proposed for membership into La Cosa Nostra.
Jack Garcia's history as an Undercover Agent is far more extensive than that. This highly decorated FBI Agent is also renowned for his roles in successful cases against corrupt politicians in Atlantic City, New Jersey, corrupt police officers in the Hollywood Police Department, the Broward County Sheriff's Office, the Boston Police Department and in the San Juan, Puerto Rico Police Department. He has also worked Undercover against hundreds of drug dealers and leaders of both the Colombian and Mexican drug cartels, while posing as either a money launderer, transporter or trafficker. He has done Undercover work on National and International Terrorism cases as well as National Security investigations. Garcia has also worked Undercover against Russian and Asian organized crime groups and several Murder for Hire undercover investigations. Most remarkably, Garcia worked on many of these cases simultaneously, as he juggled his various undercover identities and roles. Garcia successfully managed to work as an undercover FBI Agent for 24 out of his 26 years of service without detection.
In addition, Jack Garcia is a fluent Spanish speaker and member of the FBI Agents Association (FBIAA), the Society of Former Special Agents of the FBI, the Federal Law Enforcement Officers Association (FLEOA), the NYPD Honor Legion, The National Police Defense Foundation (NPDF) and the Society of FBI Alumni. Jack Garcia is a guest speaker and lecturer at the FBI Academy, the FBI National Academy, and the FBI Citizens Academy on Organized Crime, Sensitive Operations and Undercover Training. He has been featured on 60 Minutes, the Discovery Channel, The Oprah Winfrey Network, CBS Evening News, CBS Early Show, The "Don Francisco Presenta" Show, CBS-4 Miami, 60 Minutes-Australia, Fox's Good Day New York and on Greg Gutfeld's "Red Eye" Fox Network show. He has also appeared in numerous radio programs, magazines and newspaper articles and is the author of the New York Times bestseller, Making Jack Falcone- An Undercover FBI Agent Takes Down a Mafia Family. His story was optioned by Paramount Studios for a feature film with Academy Award Director, Steven Soderbergh and Actor, Benicio DelToro.
---