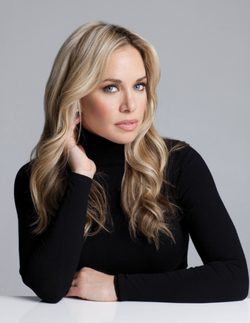 ---
Please contact a GDA agent for information.
---
Topics
Click on the topic name to see other speakers tagged with this topic.
---
Heather Monahan
Featured
Best-selling Author, Entrepreneur and Former C-Suite Executive
Best-Selling Author, Entrepreneur and Confidence Creator
"Our event jumped to 50 new registrations in one day from posting one of her videos!"
--Society of Professional Women, The Maine Line Chamber of Commerce
Confidence is the one thing that will change everything. Heather Monahan's life and career are proof positive. After 20 years shattering glass ceilings and reaching the C-Suite in media, Heather, a.k.a., "Boss in Heels" has dedicated herself to helping others shift mindsets and develop the transformational confidence that increases sales, achieves goals, invigorates teams and drives personal, professional and organizational success. Her inspiring, engaging and often, hilarious keynotes go beyond motivating for the moment, event or evening. Audiences leave with tangible takeaways they can put into action immediately. As one client wrote, "She had our audience laughing, identifying and invigorated."
Heather is the author of Confidence Creator, the self-published best-seller that took Amazon's ranking by storm, "trumping" President Trump to capture the #1 spot on their business list. She also hosts the Creating Confidence Podcast, featuring techniques, strategies and insightful interviews with business thought leaders like Gary Vaynerchuk and Jesse Itzler. Heather also founded and leads Boss in Heels, LLC, a global community dedicated to helping others gain confidence and live their best lives.
All of Heather's ventures leverage the powerful lessons she learned not only from her meteoric rise from sales rep to CRO, but her unexpected firing by the heir to the family-run business she had spent 14 years elevating to success. After graduating from Clark University in her native Worcester, MA, Heather began her career in sales. At the Gallo winery she quickly advanced to top salesperson and Brand Manager within her first year. For her next job, she took on radio sales and was quickly offered an equity partnership to turn around a fledgling group in the Midwest. Within three years, she more than doubled the station's value from $27M to a final sale of $55M, earning a reputation as a rainmaker in the broadcasting world. Her success caught the attention of Beasley Broadcasting in Florida where she was hired as Director of Sales and rose to the role of Chief Revenue Officer after numerous promotions. As CRO, Heather oversaw the entire sales organization and took the company from $100 million in annual revenue to over $200 million annually. She also led the group through multiple acquisitions, product additions and a highly successful merger. Before her termination, Heather was recognized as a Glass Ceiling Award winner and as one of the "Most Influential Women in Radio". In late 2017, Heather chose to make Boss In Heels her full-time job. A whirlwind followed: Appearances on shows ranging from Headline News, to Steve Harvey, a TEDx talk, and upon the success of Confidence Creator, features in major media including Forbes and USA Today. Her recent speaking engagements include Harvard University, Horizon Media, BNY Mellon, Royal Caribbean, the S.H.E. Summit Bacardi, the WNBA, University of Miami Business School and many others.
Known for working with clients to customize her highly motivational keynotes, Heather is the energizing choice for sales kickoffs, women's groups or any organization looking to kickstart performance and drive results. Leading audiences through her own journey, Heather challenges audiences to start on their own path—developing the confidence they need to become the best, most innovative and authentic version of themselves.
Topics:
The Game Changing Power of Confidence Creation
The Life Changing Difference: Becoming a Confident Woman
The Revenue Recipe: Creating the Confident Sales Team
---