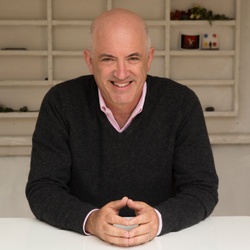 ---
Please contact a GDA agent for information.
---
Topics
Click on the topic name to see other speakers tagged with this topic.
---
George Lange
World-renowned Photographer, Team Builder & Author of Picturing Joy
George Lange is an internationally acclaimed portrait photographer, best known for his images of both cultural celebrities, corporate players, people in all walks of life, as well as his fresh and engaging photoshoot events, workshops/keynotes that evoke connection and authenticity amongst clients and teams.
George began his career as Annie Leibovitz's first assistant during her last six months at Rolling Stone and first six months on the relaunch of Vanity Fair. He then began shooting editorial assignments for; Esquire, Conde Nast Traveler, NY Times Magazine, Fortune, Sports Illustrated, Decoration Internationale, Entertainment Weekly, Teen People and others. His work is known for being creative, energetic, and joyful.
The author of The Unforgettable Photograph, George Lange was the Artist-in-Residence for Creative Shop at Instagram, producing interactive, immersive photo events over three years at Cannes Lions. His new book, "Picturing Joy: Stories of Connection," is an autobiographical look at finding connection through 40-plus years of inspiring photoshoots.
Lange has come to learn, and to teach others about, the joy of connection. CEOs need to be trusted by their employees. Teams want to be appreciated by their coaches. It goes beyond the work being done, to an emotional connection allowing for the most meaningful and cohesive relationships.
"My job as a keynote speaker is to share how vulnerability and trust creates connection and how a corporate workplace can benefit from breaking down barriers." - George Lange
Through spirited stories and engaging photography, clients begin to see new perspectives. George's relatable photoshoots with extraordinarily famous actors, and those of us who are extraordinary in our everyday lives, prove that we all have something special to offer.
A favorite add-on to George's talk is creating a photo shoot live with the participants of the workshop. They not only get to see what the talk was about for themselves, but they wind up with awesome photos for use on their social media platforms and for promotional use.
Recent Workshops:
George's studio hosted a Pharma offsite for marketing executives in June, 2023. His talk was about humanizing imagery to allow customers to connect more intimately with life extending, high-end medical treatments. Why do all pharma ads look generic, why do the patients look overwhelmed? George demonstrated images of patients feeling empowered and how those images connected with the message. George's past brand work in the health sector allowed him to share new ways to connect with patients who desperately need to trust their company's messaging and believe in the products they are offering.
Recently, during a keynote to the League of American Orchestras, George illustrated techniques for allowing the musicians to connect with their audience in new ways. George used his recent work with the Pittsburgh Symphony Orchestra to show how a more intimate connection could be achieved between the patrons and the musicians - especially with the conductor who directs the symphony with his back to the audience.
---