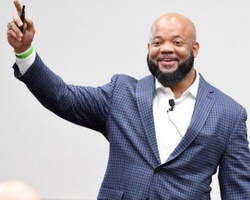 ---
Please contact a GDA agent for information.
---
Topics
Click on the topic name to see other speakers tagged with this topic.
Gary Brackett
Featured
High Performance Coach| Speaker| Mentor
Prior to founding the Brackett Restaurant Group and Gary Brackett's Impact Foundation, Gary Lawrence Brackett played linebacker for the Indianapolis Colts of the National Football League. He was signed by the team as an un-drafted free agent in 2003 after having been a walk-on to the Rutgers University football team.While Brackett started as an undrafted free agent with the Colts and a walk-on at Rutgers, by the time he'd left the teams he had served as Defensive Captain for both and won the team's defensive MVP for the latter.
Born and raised in Glassboro,New Jersey, Brackett is a small-town boy at heart. He attended Glassboro High School where he was a two-time All-South Jersey selection; a two-time All-Group I; and a two-time All-Tri-County Conference choice. During his time with the Colts, Brackett was a backup his first two years until he became a starter in 2005. That year he had 127 tackles, three interceptions, and a sack. In 2006 he was named the defensive captain of the Colts and had 120 tackles. He started for the Colts in their Super Bowl XLI win over the Chicago Bears. In 2007 Brackett recorded 116 tackles and four interceptions. He recorded 99 tackles in both 2008 and 2009. He started for the Colts in their Super Bowl XLIV loss to the New Orleans Saints.
Once he retired from the Colts in 2010, Brackett engaged in sports commentating, something he still enjoys today, but soon turned his focus to entrepreneurship. In 2014, Gary graduated from the Accelerated Executive MBA program at George Washington University.
Afterwards, he decided to focus on the restaurant space and establish his own company. Gary currently acts as President/CEO of Brackett Restaurant Group which boasts brands such as Indy's #1 Neighborhood Sports Bar, the Stacked Pickle. The company boasts 10 locations & has won numerous awards for its excellence in service & delectable dishes. He also owns a high-end steakhouse called Char Blue located in Downtown Indianapolis. Brackett Restaurant Group owns several other casual dining brands as well as a full-service catering company.
For his service to the community, Brackett has been presented with numerous awards. In 2009, he was presented with the Arthur S. Arkush Humanitarian Award. Every year, this award is bestowed upon an NFL player "whose contributions to the community and charitable organizations are especially outstanding." For his success as the owner of Brackett Restaurant Group, he was awarded the Madame CJ Walker Legacy Award in 2015 and was named to the Indianapolis Business Journal's 2016 Class of 40 Under 40. Most recently,Gary was award the Senator Carolyn E. Mosby "Above & Beyond" Award by the Indiana Black Expo. He has been featured in the Indianapolis Star, Indianapolis Monthly, and many other publications.
---