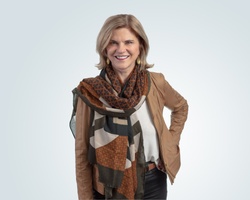 ---
Please contact a GDA agent for information.
---
Topics
Click on the topic name to see other speakers tagged with this topic.
---
Gail Davis
Founder & President of GDA Speakers
Gail Davis' decades of experience in corporate marketing and event management served as the launch pad for GDA Speakers. Before establishing the company in 1999, she spent 20 years managing the events of the Dallas-based global technology conglomerate─Electronic Data Systems (EDS)─founded by Ross Perot. While at EDS she discovered Nando Parrado, a heroic survivor of the 1972 Andes plane crash. Parrado presented an unforgettable speech at EDS' marquee event.
Shortly after his successful keynote, Parrado signed an exclusive agreement with Davis as it was her efforts that convinced him to share his story after so many years. It was this partnership with Parrado which eventually anchored the creation of GDA Speakers.
Davis is credited with bringing Parrado's harrowing experience to life in The New York Times best-selling book, Miracle in the Andes. Twenty three years later, GDA Speakers continues to represent Parrado. In honor of the 50th anniversary of the Andes crash, his story will be told through the upcoming Netflix movie, The Snow Society.
Davis continues to discover new talent and under her passionate leadership, GDA Speakers has vetted and curated highly qualified speakers who they deliver to clients with confidence.
Her successful business approach led to her being named the 2011-2012 President of the International Association of Speakers Bureaus (IASB). Previously developing new and improved education programs in her role as an IASB Governor, she has won numerous awards including the 2015 John Palmer Award, 2011 President's Award, 2010 Above and Beyond Award and the 2007 Pace Setter Award.
Davis is a frequent guest on podcasts sharing entrepreneurial insights, lessons in innovative leadership, and her vast knowledge of the speaker industry. Davis is an active member of the Entrepreneur Organization and a supporter of numerous community organizations. She was the co-chair of the 2014 Soup's On! Luncheon, the major fundraising force of The Stewpot Alliance - with that luncheon being the most successful to date. Serving on the University of Oklahoma Gaylord College Board of Visitors from 2014-2022, she was awarded the 2018 Gaylord Distinguished Alumni Award. She was also honored by the Dallas Business Journal as one of Dallas' Top 25 Women in Business.
Being drawn to the mountains, Davis enjoys hiking and has recently traversed 43 miles in Zion National Park. Merging her love for hiking and serving the community, she has also hiked the Grand Canyon rim-to-rim as a part of a fundraiser for Project Athena and has walked over 120 miles on the Camino de Santiago hike in Spain. She is an Oklahoma native, graduating from the Gaylord College at the University of Oklahoma, and currently resides in Dallas, Texas.
---