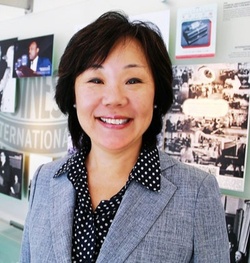 ---
Please contact a GDA agent for information.
---
Topics
Click on the topic name to see other speakers tagged with this topic.
Frances West
Founder, Advisor, Speaker, Author
Frances is an insightful and inspiring keynote presenter known for her work globally in the business of inclusion, humanity and business transformation. She is an internationally recognized thought leader and woman in technology trailblazer offering new thinking for organizations to scale and sustain their inclusion initiatives and a path forward to innovation.
She is the author of Authentic Inclusion™ Drives Disruptive Innovation, an inspirational and insightful book describing Frances West's personal and professional journey and what led her to create the Authentic Inclusion™ blueprint. Frances proposes new ways business leaders can think about inclusion as human first and a strategic business imperative to drive disruptive innovation.
Frances also is a motivational and inspiring speaker and talks about why bringing your whole life to work strengthens your inner compass and helps manage the challenges of adversity and the disruption of the unknown, based on her personal journey as a trailblazing woman in tech, from non-English speaking Asian immigrant to the C-suite at IBM. She covers how to lead as an Asian immigrant woman in times of change or crisis.
Speaker
Insightful keynote presenter known for her work globally in inclusion, emerging markets and business transformation
Thinker
Internationally recognized thought leader and woman in tech trailblazer offering new thinking to operationalize inclusion
Advisor
Strategy for C-Suite, government, startups and venture capitalists on digital inclusion and innovation
Doer
IBM's first Chief Accessibility Officer recognized for establishing IT accessibility standards, shaping government policies, and developing human-centric enterprise technology and solutions
Author
Authentic Inclusion™ Drives Disruptive Innovation, a timely and actionable book featured at CES and SXSW
---