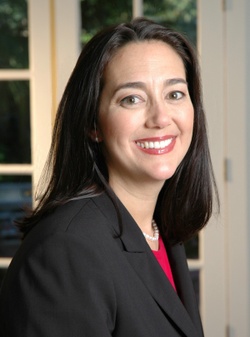 ---
Please contact a GDA agent for information.
---
Topics
Click on the topic name to see other speakers tagged with this topic.
---
Erin Gruwell
Educator and Founder of the Freedom Writers Foundation
Erin Gruwell is a teacher, an author, and an activist who has been fighting for social justice for over two decades. She first gained national attention in 1998 when she and her 150 students appeared on an ABC special–PrimeTime Live–with Connie Chung.
Erin's students - affectionately called the Freedom Writers - came from backgrounds of poverty, gangs, and violence, and many were at-risk of dropping out of school due to the school-to-prison-pipeline. But, under Erin's guidance, all 150 Freedom Writers graduated from high school and pursued higher education.
In 1999, Erin and the Freedom Writers published their book, The Freedom Writers Diary, which detailed their unique journey from hardship to hope. The book became a #1 New York Times bestseller and was adapted into a major motion picture, Freedom Writers, starring two-time Academy Award-winner Hilary Swank as Erin. The film brought Erin's work to an even wider audience, and she has since used her platform to continue her fight for equity and inclusion with her non-profit, the Freedom Writers Foundation.
Erin's work has been recognized with several humanitarian awards, including the prestigious Spirit of Anne Frank Award. Erin and the Freedom Writers have appeared on multiple television shows to promote educational reform, including Oprah, The View, Good Morning America, and NBC's TODAY. They have also been featured on National Public Radio, numerous newspapers, and national magazines, such as People. In 2019, Erin and the Freedom Writers were the subjects of the Emmy Award-winning PBS documentary Freedom Writers: Stories from the Heart. Erin also hosts The Freedom Writers Podcast with guests who are authors, activists and civil rights icons.
In 2022, Erin and the Freedom Writers Foundation released their latest book, Dear Freedom Writer. This critically acclaimed book combines heartfelt letters written by the next generation of student authors with deeply personal responses from the original Freedom Writers.
Be it in the classroom, or otherwise, Erin's powerful message of hope and possibility is sure to resonate with any audience, whom she encourages "to stand up, speak up and speak out."
Updated List of Books & Resources
The Freedom Writers Diary
The Freedom Writers Diary: Teacher's Guide
Teach With Your Heart
Teaching Hope
Dear Freedom Writer
The Freedom Writers Podcast
---