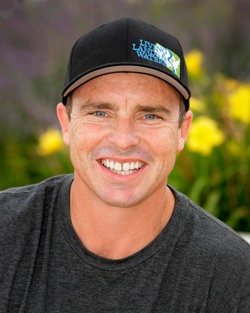 ---
Please contact a GDA agent for information.
---
Topics
Click on the topic name to see other speakers tagged with this topic.
---
Photos
Click on the image to view a high res version.
Chad Pregracke
CNN Hero; Social Entrepreneur
Chad Pregracke, the 2013 CNN Hero of the Year, is proof that one person can make a difference. At the age of 17, Chad started on a crusade to clean up America's most iconic river--The Mississippi. Since then, Chad's hard work, vision, humor, and leadership has evolved into a cultural movement that had resulted in 13 million pounds of garbage being cleaned out of America's rivers with over 126,624 volunteers and dozens of global corporations coming aboard to lend a hand.
Chad grew up, literally, with the Mississippi River as his backyard. At the age of 15, he started working on the river as a commercial shell diver, commercial fisherman and barge hand. Through those experiences, Chad witnessed firsthand the plight of the Mississippi River. Over the years, millions of pounds of often toxic debris had accumulated along the banks and islands of the river, including tens of thousands of 55-gallon barrels, tires, appliances, propane tanks, and more, in between millions of plastic bottles. At age 17, Chad began calling government agencies to tell them about the problem. With no luck or interest, he decided that if no one else would clean it up, he would.
Chad's not-for-profit organization, Living Lands & Waters, was started in 1998 and has evolved to be the only "industrial strength" river organization like it in the world with a multi-million dollar operation that includes a fleet of 5 barges, 3 towboats, a crane, an excavator, 5 work boats, 2 skid steers, and 6 work trucks.
Chad's leadership and vision have earned him over 40 awards and accolades including the 2013 CNN Hero of the Year, The Jefferson Award for Public Service, Mitchum's Hardest Working Person in America, as well as being honored at the Points of Light Tribute at the Kennedy Center, where he was given a standing ovation by all four living former U.S. Presidents. In 2007, he released a book with National Geographic about his life and mission, "From the Bottom Up: One Man's Crusade to Clean America's Rivers." He's also been featured numerous TV programs including ABC World News, CBS Sunday Morning, CNN, Discovery Channel, Fox News, National Geographic, NBC Nightly News and the Today Show.
Chad remains the driving force behind the organization and divides his time between living on a house-barge with his crew and his wife, Tammy, and their river home on the Mississippi.
---