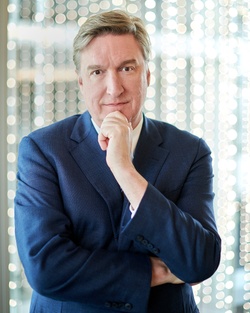 ---
Please contact a GDA agent for information.
---
Topics
Click on the topic name to see other speakers tagged with this topic.
---
Byron Reese
Inventor; Technologist; Author; Entrepreneur; Eternal Optimist
Select Testimonials
"Byron presents his vision of the future: humanity advancing subconsciously via our seamless integration with technology. Every heartbeat becomes a data point bringing us one step closer to unlocking the mysteries of humankind. Every person's life contributes to the greater good, simply through the act of living. I found his talk to be highly enthusiastic, visually engaging, and hopeful."
---
"Byron Reese presented to our professional organization of about 200. Prior to the event, Byron conferred with me twice to construct a thorough understanding of the audience and my desires for the presentation. The ultimate delivery was a 45-minute talk that engaged my audience, making complex subjects not only relatable to the crowd but topical to their business environment. Byron delivered what he promised: a customized presentation that provided an insightful and uplifting backdrop to further discussion on technological trends. I am very grateful that Byron stayed after the presentation to meet the audience and offer autographs to everyone. We look forward to working with Byron again!"
---
"Byron was an absolute hit and everyone truly enjoyed hearing his insights on the intersection of history, technology and our future. His passion and energy on the subject matter is unmatched! Further, we greatly appreciated all of the time he spent with our team and guests."
---
"Byron took the audience for a ride into his future. As an astrophysicist and a data scientist, I often think about the future, but I was struck about Byron's precise dissection of how our future is and will be determined by the data that is already starting to shape our lives: our self-generated data. Byron's vibrant and precise delivery painted in everyone's mind a picture of the positive future we all thought was likely but perhaps unreachable. Byron dared everyone, including himself, to make this future possible, and led us on a journey of discovery we never wanted to end."
---
"At a time when tech finds itself in a tumultuous period, we were fortunate to have Byron speak to our team about the future of technology. His message was inspiring, hopeful, and optimistic. And he delivered his talk with authenticity and passion. Simply put, he nailed it!"
---
"Byron Reese is a fantastic, engaging and entertaining speaker. I saw him give a presentation at the Dallas County Medical Society Alliance and Foundation. I came away learning a lot, seeing new possibilities in the world around me, and coming up with new ways to take action in my life and business. I highly recommend having Byron speak at your next event. He will bring something special and unique."
---
Byron's talk was spectacular. He took the time to speak with me in advance about our event and crafted a presentation that perfectly fit our theme. He kept the audience engaged throughout the presentation both through the thought provoking topics he discussed as well as the visual images he included. On top of all this, he was exceptionally easy to work with before, during and after his presentation. He truly made my job easier.
---
"We are so grateful for your time and your speech last week. We received our member feedback and it was extremely positive. Thank you for all the effort you put into crafting something that fit so well with our organization and our theme for the day."
---
"Byron delivered a fabulous keynote presentation at our signature annual event. His speech was thought-provoking, engaging, and uplifting. I heard many, many compliments from guests."
---
"Byron Reese was a hit at our latest meeting! His insights into the how technological advancements could impact our collective future were interesting and thought-provoking to say the very least. Our attendees were discussing his presentation well after the meeting. It was that impressive! Byron was also excellent to work with leading up to the event. As a program planner, I appreciated the opportunity to speak with him well in advance of the meeting. He took the time to learn about our organization and customized his content to reflect our industry. He was professional, polished and definitely a hit with our 200 municipal utility representatives!"
---
It was a pleasure having Byron Reese on our campus. Not only was his presentation to nearly 400 faculty stimulating and well-received, he also was personable and generous with his time in discussing ideas with faculty before and after the presentation. Byron's visionary approach and dynamic style provided an instant connection to the audience. ~Robert Neely, Professor of Biology, Provost & Vice President for Academic Affairs Texas Woman's University
---
"It was a pleasure having Byron Reese on our campus. Not only was his presentation to nearly 400 faculty stimulating and well-received, he also was personable and generous with his time in discussing ideas with faculty before and after the presentation. Byron's visionary approach and dynamic style provided an instant connection to the audience."
---